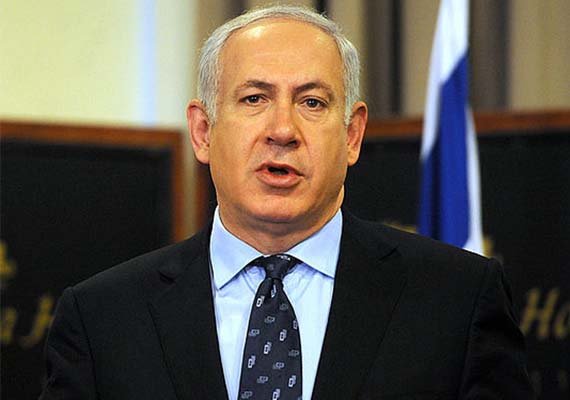 Jerusalem: Prime Minister Benjamin Netanyahu today rejected talk of Israel withdrawing from Jerusalem and the West Bank within two years, on the eve of a meeting with the top US diplomat.
"We... Stand against the possibility of a diplomatic assault, that is an attempt to compel us by means of UN decisions to withdraw to the 1967 lines within two years," said Netanyahu.
The Jewish state seized east Jerusalem, the Gaza Strip and the West Bank during the 1967 Six-Day War. It pulled out of Gaza in 2005.
Netanyahu said such a withdrawal now would bring "Islamic extremists to the suburbs of Tel Aviv and to the heart of Jerusalem."
Speaking ahead of the weekly meeting of his cabinet, he said he would raise the issue in Rome with US Secretary of State John Kerry and Italian Prime Minister Matteo Renzi tomorrow.
"I will tell them that Israel, to a large degree, stands as a solitary island against the waves of Islamic extremism that are washing over the entire Middle East," the Israeli premier said.
"Until now we have successfully withstood and repelled these attacks."
The Palestinian leadership plans to submit a draft resolution to the UN Security Council demanding the end of Israel's occupation by November 2016.
The Arab League has backed the text, but it ran into opposition from the United States, which has repeatedly vetoed resolutions seen as undermining Israel.
France stepped in last month to try to cobble together along with Britain and Germany a resolution that would win consensus at the 15-member council.