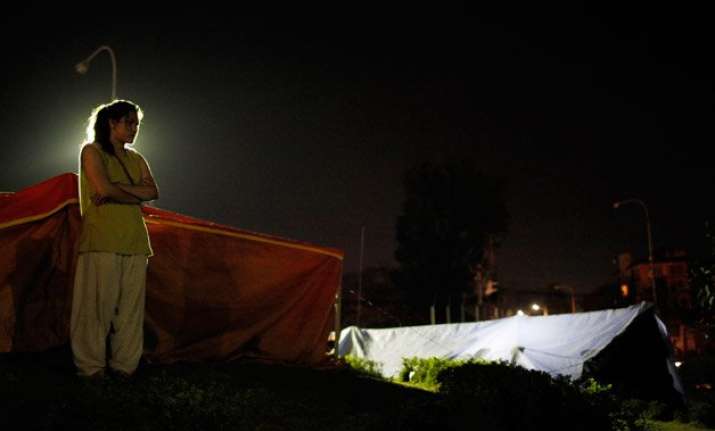 Kathmandu: Thousands of fear-stricken people spent the night out in the open as a new earthquake killed dozens of people and spread more misery in Nepal, which is still struggling to recover from a devastating quake nearly three weeks ago that left more than 8,000 dead.
There was no electricity in Kathmandu after the tremors. Internet connectivity too snapped.
Thousands of people set up tents in open spaces. Some people were seen sitting on the middle of roads, afraid to go back to their homes.
Cracked buildings collapsed in a heap of debris and landslides cut off roads as an earthquake measuring 7.3 on the Richter scale hit Nepal, with its epicentre not far from Mount Everest -- the world's highest peak at 8,850 metres.
Six strong aftershocks followed in quick succession. Four of the aftershocks had their epicentre at Kodari on the Nepal-China border, northeast of Kathmandu, and the strongest aftershock measured 6.3 on the Richter scale.
Nepal Prime Minister Sushil Koirala said the government has deployed search, relief and rescue teams in the affected areas.
65 dead in Nepal, 16 in India
At least 65 people were killed and over 2,000 others injured when a massive earthquake and 14 aftershocks shook Nepal and several parts of India, according to the Nepal's Home Ministry.
In neighboring India, at least 16 people were confirmed dead after rooftops or walls collapsed onto them, according to India's Home Ministry.
Chinese media reported one death in Tibet.
Most of the casualties Tuesday's magnitude-7.3 quake were in Dokha district, located northeast of Kathmandu, the district's chief government administrator, Prem Lal Lamichane, said Wednesday.
"People are terrorized. Everyone is scared here. They spent the night out in the open," Lamichane said, adding the administration was running out of relief material.
Toll was expected to rise as reports began reaching Kathmandu of people in isolated Himalayan towns and villages being buried under rubble, according to the U.N.'s Office for the Coordination of Humanitarian Affairs.
A US Marine Corps helicopter carrying six Marines and two Nepalese soldiers was reported missing while delivering disaster aid in northeastern Nepal, U.S. officials said, although there have been no indications the aircraft crashed.
Home Ministry official Laxmi Dhakal said Wednesday that army helicopters were scouring the Sunkhani area, nearly 80 kilometers (50 miles) northeast of Kathmandu, for the missing helicopter.
In Washington, Navy Capt. Chris Sims said the missing Huey helicopter was conducting disaster relief operations near Charikot, Nepal.
Aftershocks to continue: IMD
India Meteorological Department (IMD) chief LS Rathore said the aftershocks could well continue for a few more weeks and months.
"Aftershocks will continue for weeks or may be months," Rathore said.
Though aftershocks are quite normal seismic events in the wake of a quake of high magnitude, the one that hit on Tuesday was scary as it measured quite high on the Richter scale as compared to 111 other aftershocks between April 25 and May 12.
Tuesday's quake, centered midway between Kathmandu and Mount Everest, struck hardest in the foothills of the Himalayas, triggering some landslides, but it also shook the capital badly, sending thousands of terrified people into the streets.
The magnitude-7.8 earthquake that hit April 25 killed more than 8,150 and flattened entire villages, leaving hundreds of thousands homeless in the country's worst-recorded quake since 1934. The U.S. Geological Survey said Tuesday's earthquake was the largest aftershock to date of that destructive quake.
Tuesday's temblor was deeper, however, coming from a depth of 18.5 kilometers (11.5 miles) versus the earlier one at 15 kilometers (9.3 miles). Shallow earthquakes tend to cause more damage.
Rescue helicopters were sent to mountain districts where landslides and collapsed buildings may have buried people, the government said. Home Ministry official Laxmi Dhakal said the Sindhupalchowk and Dolkha districts were the worst hit.
Search parties fanned out to look for survivors in the wreckage of collapsed buildings in Sindhupalchowk's town of Chautara, which had become a hub for humanitarian aid after last month's quake.
Impoverished Nepal appealed for billions of dollars in aid from foreign nations, as well as medical experts to treat the wounded and helicopters to ferry food and temporary shelters to hundreds of thousands left homeless amid unseasonal rains.
Meanwhile, new landslides blocked mountain roads in the district of Gorkha, one of the regions hit hardest on April 25, while previously damaged buildings collapsed with the latest quake.
Residents of the small town of Namche Bazaar, about 50 kilometers (35 miles) from the epicenter of Tuesday's quake and well known to high-altitude trekkers, said a couple of buildings damaged earlier had collapsed there as well. However, there were no reports of deaths or injuries.
The earth also shook strongly in neighboring Tibet, unleashing a landslide that killed one person and injured three, according to China Central Television. Two houses collapsed, the state broadcaster said, quoting disaster officials of the regional Tibetan government.