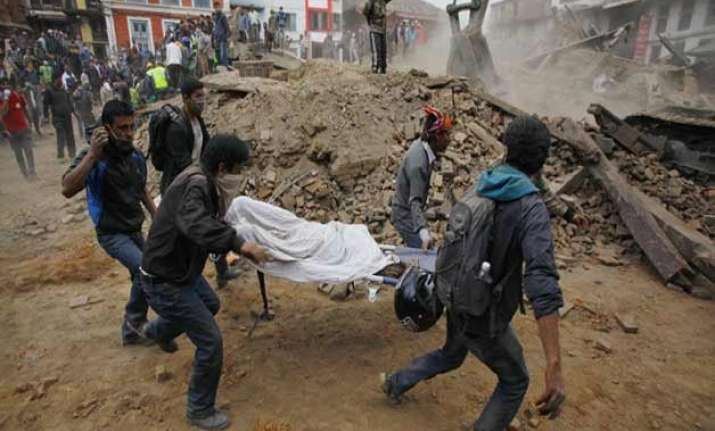 Kathmandu: The death toll in Nepal's killer earthquake has risen to 7,759, the government announced on Thursday.
A home ministry statement put the number of injured in the April 25 quake at 16,432.
The temblor measured 7.9 on the Richter scale and was the worst to hit Nepal after 1934.
Sindhupalchowk district is the worst-hit with a total death toll of 2,939 while 1,209 died in Kathmandu.  Over 2,000 engineers were deployed voluntarily to check safety of houses here in the aftermath of the temblor and have checked over 13,000 buildings so far, including the Rastrapati Bhawan.
The rear part of the presidential mansion, popularly known as 'Sheetal Niwas', has been declared unsafe and should now be demolished and rebuilt.
President Ram Baran Yadav has moved to a safer place. He had stayed in makeshift tents for six days after cracks appeared on the residence due to the temblor that also damaged Prime Minister Sushil Koirala's home.  Of the checked houses, 50 per cent are suitable for residing, 20-25 per cent are unsuitable and remaining others need renovations.
A total of 2,79,234 houses have been completely damaged and 237,068 partially damaged, according to the Ministry.
Nepal also banned flying of drones in its skies following the devastating earthquake, suspecting leakage of sensitive information through the use of the unmanned aerial vehicle, authorities said.
After the April 25 quake, some foreign media and other aid agencies used drones to track the loss of human lives and damages to properties.
Civil Aviation Authority of Nepal said in a statement that Nepal has banned the use of drones as they could leak sensitive information and pictures of its valuable heritage sites clicked illegally.
The authorities also initiated the renovation of the collapsed structures at Patan Durbar Square, part of the iconic Durbar Square.
Local volunteers and Durbar Square staffers have begun the renovation of the Mahadev Temple that was partially destroyed by the 7.9-magnitude deadly quake that flattened buildings and brought down electric poles and trees.  
The workers have been collecting scattered bricks from the collapsed structure. General public have been barred from entering inside the Square premises. Movement of people was dense in Patan area compared to the past few days.  
Quake-triggered avalanches have put the climbing season in Mount Everest in uncertainty, with no clear word on whether the mountain will remain open for climbing activities.  
The Sagarmatha Pollution Control Committee (SPCC) said in a statement that it has recommended to the government to close the mountain for climbing activities this season after routes above the base camp were destroyed by the deadly avalanche. The recommendation requires government's approval.
(With inputs from agencies)