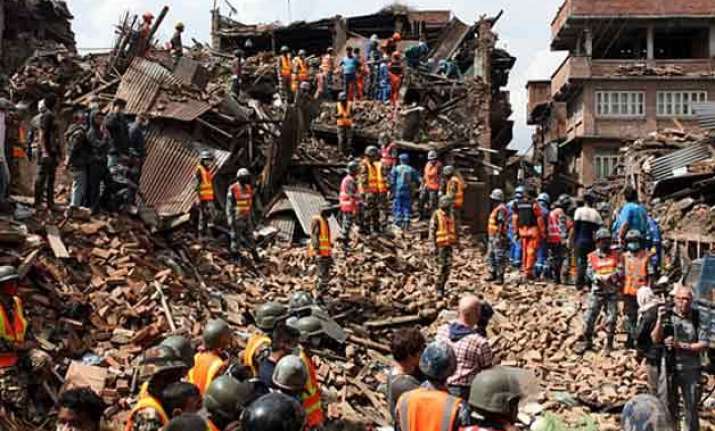 Kathmandu: As search and rescue operations continued for the seventh day, the toll due to the massive earthquake that hit Nepal on April 25 rose to 7,040 on Saturday, officials said. At least 38 Indians are among the dead.
As many as 14,087 people were injured in the 7.9 magnitude quake and its aftershocks, according to Nepal's ministry of home affairs.
Sindhupalchok district saw the highest number of deaths at 2,560, while 1,180 people were killed in the capital Kathmandu.
A total of 5,929 bodies have been handed over to their relatives so far, while over 250 corpses were lying unattended.
The government has asked relatives to collect the bodies within seven days, failing which they will be consigned to flames in a mass cremation next week.
Search and rescue teams on Saturday pulled out 42 bodies in Langtang area, a popular trekking destination for foreigners.
The bodies were of 34 locals, six tourists, a tourist guide and a Nepal Army personnel, the home ministry said.
Among the tourists, two were Italians, while there was one Malaysian and a German. The nationalities and identities of the other two foreigners were yet to be ascertained, the ministry said.
In a statement issued on Saturday, Nepal's home ministry said: A total of 96 foreigners affected by the temblor comprised 50 dead and 46 injured -- India (38 dead, 10 injured), China (3 dead, 9 injured) , Hong Kong (1 injured) , France (2 dead, 5 injured) , US ( 3 dead, 1 injured), Italy (5 injured) , Germany (4 injured), Netherlands (2 injured), Japan (1 dead, 2 injured), Australia (1 dead, 2 injured), Turkey (1 injured), Denmark (1 injured), Russia (1 injured), Estonia (1 dead), Sweden (1 injured), Spain (1 dead), Korea (1 injured).
The wounded Indians have been admitted in Teaching Hospital and Patan Hospital.