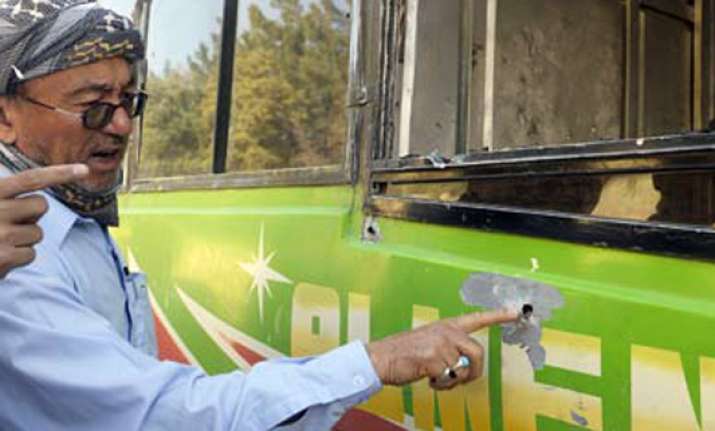 Islamabad, Feb 28: Militants clad in military uniforms intercepted a convoy of buses and gunned down 18 minority Shia men today in a northern Pakistan region that borders the former Taliban stronghold of Swat.

Eight others were injured in the attack, for which the banned Jundullah group has claimed responsibility.

Two women and three children were among the injured, officials said.

About 10 to 15 gunmen stopped three buses near Harban village in Kohistan district of Khyber-Pakhtunkhwa province, about 200 km from Islamabad, and shot the Shias after ascertaining their identity.

The buses were going from the garrison city of Rawalpindi to Gilgit, which has a sizeable Shia population. The buses stopped near Harban as the road was blocked with large stones.

The gunmen then entered the vehicles and began asking the passengers whether they were Shias or Sunnis. They thoroughly questioned the passengers and even checked their identity cards, officials said.

The gunmen forced the Shia men out of the vehicles and made them stand in a line before opening fire, local lawmaker Abdul Sattar Khan and other officials told the media.

Some police officials said the gunmen were wearing army uniforms. Over two dozen other passengers were spared. Police officials said all the dead were Shia men and that the buses were passing through an area dominated by Sunnis.

The injured were taken to a hospital in Chilas town. Most of them were in a serious condition, officials said.

Commander Ahmed Marwat of the outlawed Jandullah group claimed responsibility for the attack in phone calls to journalists.

He said those executed in the incident were "Shia infidels".

Jundullah has close links with the Pakistani Taliban and the Lashkar-e-Jhangvi, a notorious anti-Shia group.

Kohistan district borders the Swat Valley, which had a strong Taliban presence till 2009, when the army launched an operation to flush out the militants.

Many of the victims were Shias returning from a pilgrimage to shrines in Iran.

Lawmaker Abdul Sattar Khan linked the attack to the recent murder of two Sunnis in Gilgit. The attack sparked tension and protests in parts of Gilgit-Baltistan and authorities issued orders banning large assemblies.

Additional security forces were rushed to Gilgit, where the main market was closed as a protest. Authorities also closed all government offices and schools in the region for three days.

President Asif Ali Zardari and Prime Minister Yousuf Raza Gilani condemned the attack.

Zardari said the "culprits of such a heinous crime would not be spared" while the premier said such acts of terrorism could not deter the government's resolve to fight the menace.

Interior Minister Rehman Malik constituted a team comprising officials of the police, ISI and Intelligence Bureau to probe the incident and to submit a report within three days.

He said those involved in the crime would be arrested and taken to task.