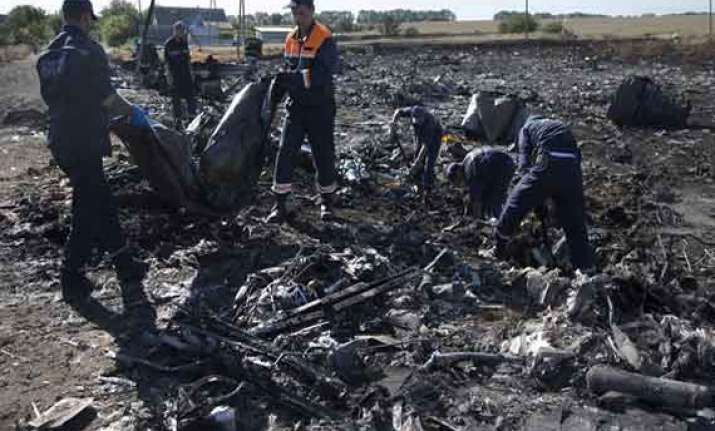 Eindhoven (Netherlands):  Two military transport planes carrying 40 coffins bearing victims of the downed Malaysia Airlines Flight 17 landed today in the southern city of Eindhoven, and pro-Russian rebels shot down two fighter jets in Ukraine's restive east as fighting flared in the region.
Six days after the Boeing 777 was shot down over the battlefields of eastern Ukraine, the first bodies finally arrived in the Netherlands, the country that bore the heaviest toll in the crash that killed all 298 passengers and crew.
A Dutch Hercules C-130 that Dutch government spokesman Lodewijk Hekking said was carrying 16 coffins touched down first, closely followed by an Australian C-17 Globemaster plane carrying 24 coffins.
British investigators began work on a pair of "black boxes" to retrieve data on the flight's last minutes, while Dutch officials said they have taken charge of the stalled investigation of the airline disaster and pleaded for unhindered access to the wreckage.
The Dutch and Australian military transport planes departed Ukraine at midday, and landed at Eindhoven Air Base where the flights were met by Dutch King Willem-Alexander, Queen Maxima, Prime Minister Mark Rutte and other government officials. Hundreds of relatives were also there, Hekking said.
"If I have to wait five months for identification, I can do it," said Silene Fredriksz-Hoogzand, whose son, Bryce, and his girlfriend Daisy Oehlers died in the crash. "Waiting while the bodies were in the field and in the train was a nightmare."
King Willem-Alexander clasped his wife's hand as the couple grimly watched teams carry the coffins slowly from the planes to a fleet of waiting hearses. Almost the only sound was of boots marching across the ground and flags flapping in the wind.
From the airport, they were to be driven under military police escort to the central city of Hilversum where forensic experts were waiting at a military barracks to carry out the painstaking task of identifying the remains.
Rutte says many bodies could be identified quickly and returned to their loved ones, but some families may have to wait weeks for a positive identification.
The bodies arrived back in the Netherlands which is home to 193 of the victims on a day of national mourning.
Flags flew at half-staff on government buildings and family homes around this country of 17 million. Church bells rang out as the planes taxied to a standstill in Eindhoven.