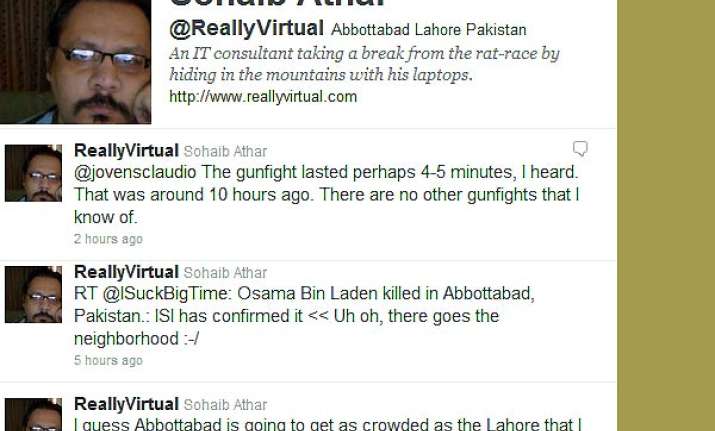 Islamabad, May 2: Sohaib Athar describes himself on twitter as an "IT consultant taking a break from the rat-race by hiding in the mountains with his laptops."

On the intervening night of May 1 and 2, 2011, his abode in Abbottabad did not seem like an ideal hideout. His tweets tell the story, as Athar recorded a historic moment on the microblogging site without really realizing that he was doing so.

Athar, whose twitter handle is ReallyVirtual, first tweeted, "Helicopter hovering above Abbottabad at 1 AM (is a rare event)." In the next tweet, tongue in cheek and clearly sleepless in Abbottabad, Athar said, "Go away helicopter - before I take out my giant swatter :-/."

The next tweet from the IT consultant records what seems like the beginning of action. "A huge window shaking bang here in Abbottabad Cantt. I hope it's not the start of something nasty :-S." And then, "@m0hcin all silent after the blast, but a friend heard it 6 km away too... the helicopter is gone too."

In the middle of the night, Athar still did not know that he would be all the buzz the next morning. When the sounds seem to have ceased, he tweeted, "@m0hcin http://bit.ly/ljB6p6 seems like my giant swatter worked!" He linked to a blog report that said, "big blast is heard near the biggest military academy of Kakool, in Abbottabad. People are saying that it is due to a helicopter crash near the Kakool academy's residential academy. Security forces have surrounded the place and investigations are underway."

Soon Athar posted, "@m0hcin the few people online at this time of the night are saying one of the copters was not Pakistani..." The buzz online was building.

Athar exchanged tweets with some other people in Abbottabad, at one point saying, "The abbottabad helicopter/UFO was shot down near the Bilal Town area, and there's report of a flash. People saying it could be a drone."

Somewhere down the line, also a tweet, "and now I feel I must apologize to the pilot about the swatter tweets :-/," as it seemed to sink in that something grave might have happened.

A few hours of silence. And then Athar knew his hideaway was a big part of the history that had been made in the middle of the night. Some tweets and retweets then: "RT @ISuckBigTime: Osama Bin Laden killed in Abbottabad, Pakistan.: ISI has confirmed it << Uh oh, there goes the neighborhood :-/." And, "I guess Abbottabad is going to get as crowded as the Lahore that I left behind for some peace and quiet. *sigh*."

And more tongue in cheek: "I guess I should unsubscribe from the #abbottabad search on twitter before it kills my machine. Leave Abbottabad alone, Osama and Obama..." Or, "I need to sleep, but Osama had to pick this day to die :-/."

Athar, of course, knows he is now a famous guy on Twitter. "Uh oh, now I'm the guy who liveblogged the Osama raid without knowing it." And the disclaimer less than an hour ago, "I am JUST a tweeter, awake at the time of the crash. Not many twitter users in Abbottabad, these guys are more into facebook. That's all." That to the deluge of congratulatory messages that he is getting for his effort and that he says he is now unable to keep up with.