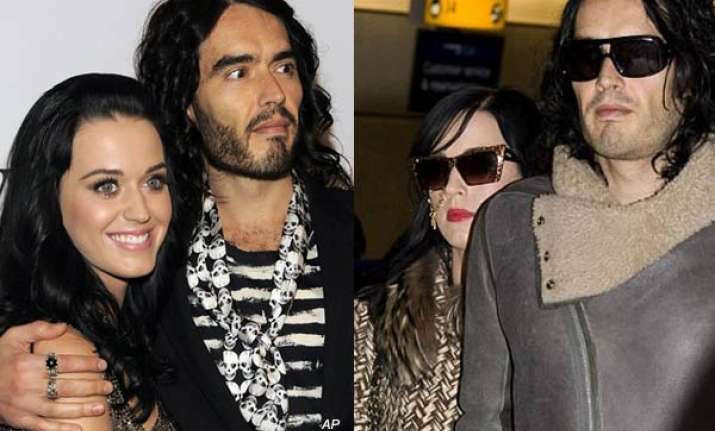 RANTHAMBORE: It was a perfect marriage of Hollywood glamour and Rajasthan's exotic charm. On Saturday, as security guards blocked any view by long-range photographers, American singer Kate Perry and her fiance Russell Brand exchange their vows as a Hindu priest conducted the ceremony, which was attended by family and close friends of the couple, reports Times of India. 
At the season's most talked-about wedding, Perry and Russell — all decked up in traditional Indian attire, took the pheras. A grand dinner followed the ceremony. On Saturday morning, two elephants — Mala and Lakshmi - walked into the venue with the red carpet rolled open for their welcome. The Indian Management company, which was to organise the wedding, was replaced at the last moment with a Hollywood-based event management company.
Brand, like a traditional Marwari groom, had sported henna on his hands for the grand event.
According to a guest invited for the rehearsal dinner on Friday, "Katy's father was keen that all the wedding ceremonies are in line with Indian traditions. In a tent that was decorated in pink and orange hues with marigold, the guests were also dressed in traditional Indian attire. Katy was wearing an orange saree with glass bangles and a bindi and Russell was sporting a maroon sherwani. It was largely a family affair. There was dhol music and they danced to Bollywood numbers. Even on the menu were kadhi, gatta and bajre ki roti."
For the entire day on Saturday, no guest moved out of the resort. In the evening as around 200 mediapersons from across the world waited outside the boundary walls, all that could be seen was the venue being lit up and decorated.
The atmosphere between the guards and the media was amicable, flashes that Brand's guards had taken away a day earlier, were returned. And together they stood sharing light moments.
Reports also said that the celeb entourage that especially flew down to celebrate the wedding were asking for opium. According to a source, "The guests have been demanding herbs to smoke. The specific demand was for opium which they were finding hard to source."