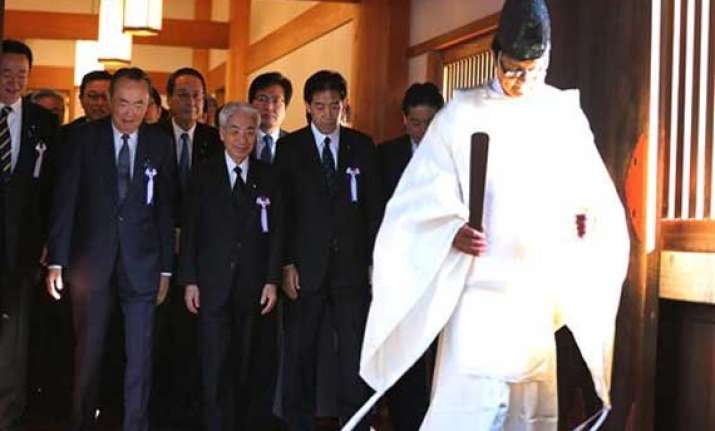 Tokyo: Japan's Prime Minister Shinzo Abe sent religious offerings on Friday to a Tokyo shrine honoring the war dead including convicted wartime leaders, as dozens of lawmakers prayed at the site in a ceremony that has repeatedly drawn rebukes from Japan's neighbors.
The Yasukuni Shrine honors war criminals, including wartime leader Hideki Tojo, among the 2.5 million war dead. Many Asian victims of Japan's wartime atrocities, especially China and the Koreas, see the shrine as a symbol of militarism.
Abe last visited Yasukuni in December, triggering anger from China and South Korea.
On Friday, Abe sent a set of Shinto-style "masakaki" ornaments, in his role as prime minister, on the occasion marking the shrine's Oct. 17-20 autumn festival, one of three major events when Japan's conservatives typically pray there.
A group of 110 lawmakers and 80 aides visited the shrine and prayed for the war dead.
Abe's offerings signalled he chose to stay away from visiting the shrine. He was currently in Italy for the Asia-Europe Meeting.
Japanese top officials have expressed desire for a first-ever meeting between Abe and Chinese President Xi Jinping during an Asia-Pacific Economic Cooperation summit in Beijing in November, but Beijing has rejected the suggestion.