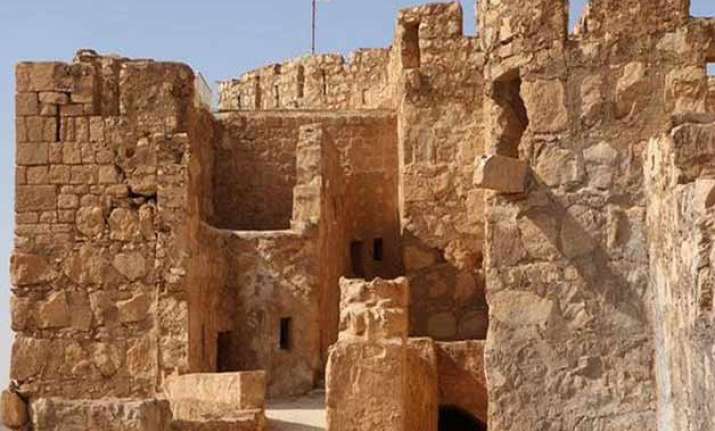 Damascus, Syria: Islamic State fighters broke into the museum of the ancient town of Palmyra, though its artifacts have been removed and are safe, a Syrian official said Saturday.
The Islamic State group captured Palmyra in the central province of Homs on Wednesday, raising concerns around the world they would destroy priceless, 2,000-year-old temples, tombs and colonnades located in the town's south. A picture circulated on Twitter accounts of supporters of the group show the black flag used by the extremists raised over the town's hilltop castle, a structure hundreds of years old.
Maamoun Abdulkarim, the head of the Antiquities and Museums Department in Damascus, told The Associated Press that militants entered the museum in the town's center Friday afternoon, locked the doors and left behind their own guards. He said that the artifacts earlier had been moved away to safety.
"We feel proud as all the museum's contents were taken to safe areas," he told reporters. But Abdulkarim warned that the Islamic State group's control of the town remains a danger to its archaeological sites. The group has destroyed several sites in Syria and Iraq, and also has had a lucrative business by excavating and selling artifacts on the black market.
Activists had said the government emptied the museum of its content before the Islamic State assault on the town.
The city's museum and artifacts have been damaged and looted earlier during Syria's four-year civil war. In a 2014 government report prepared for the U.N.'s cultural agency, damage already was recorded because of fighting in the area around the Temple Bel. Bullets and shells hit the temple's columns, while two of its southern columns had collapsed. The report also recorded looting.
Abdulkarim said some 6,300 artifacts from Syria were seized and smuggled out of the country in the last four years.
The Islamic State group holds large territory across Syria and neighboring Iraq. In Iraq, police Col. Aziz al-Shihawi said that Iraqi troops and Shiite militias recaptured the town of Hussiba in Anbar province Saturday. He said Iraqi allied forces killed several militants before they withdrew from the town, some 7 kilometers (4 miles) east of the Islamic State-held city of Ramadi.
Baghdad says preparations are underway to launch a wide-scale counteroffensive in Anbar province involving Iranian-backed Shiite militias, which have played a key role in defeating the Islamic State group elsewhere in the country. The presence of those militias could, however, fuel sectarian tensions in the Sunni province, where anger at the Shiite-led government runs deep.