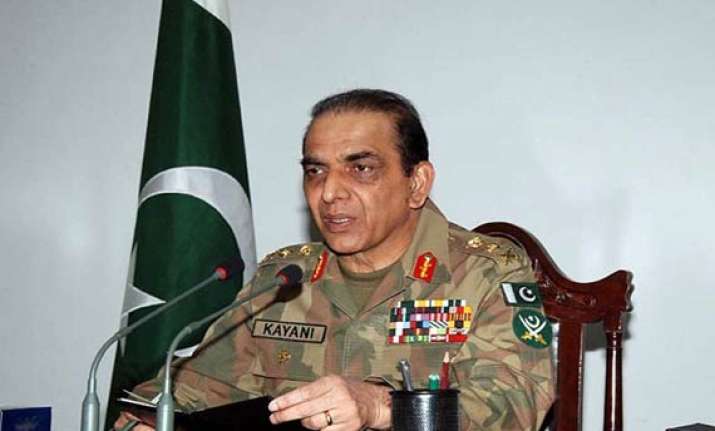 Islamabad, Dec 21 : Pakistan Army chief Gen Ashfaq Parvez Kayani today reiterated his request to the Supreme Court to conduct an investigation into the Memogate scandal, making it clear that the military and the civilian government had not resolved their differences on the issue. 
Kayani conveyed his stand in a rejoinder submitted to the Supreme Court.

He said the memo made public by Pakistani-American businessman Mansoor Ijaz is a "reality" and it should be thoroughly investigated as it had a bearing on national security and sovereignty.

The army chief's rejoinder said the Inter-Services Intelligence agency chief Lt Gen Ahmed Shuja Pasha had briefed him about the memo on October 24 after gathering evidence and information from Ijaz.

Kayani said all his earlier statements were based on facts and he had kept nothing hidden from the court. 
The army and ISI chiefs have asked the apex court to conduct an investigation into the alleged memo that had sought US help to stave off a feared coup in Pakistan after the killing of Osama bin Laden in May.

The government has challenged the court's jurisdiction to hear several petitions seeking a probe, saying a parliamentary panel was already conducting an investigation. 
A meeting between Kayani and Prime Minister Yousuf Raza Gilani on December 16 had triggered speculation that the military and the government may have resolved their differences on the handling of the probe into the scandal. 
Kayani's remarks, which came a day before the apex court resumes hearing the issues, made it clear that the differences persisted.

Kayani filed the rejoinder in response to a directive from the court, which had sought responses to replies filed by the government, Ijaz and Husain Haqqani, Pakistan's former envoy to the US.

Haqqani was forced to resign after Ijaz alleged he was behind the memo.

PML-N chief Nawaz Sharif, who is one of the petitioners seeking a probe into the scandal, said in his rejoinder that an inquiry was necessary as no one had denied the existence of the memo.

"It is a matter of public interest and the people of Pakistan should know who did what and why?" his reply stated. 
The Memogate scandal has rocked Pakistan's political and diplomatic circles and triggered speculation about the future of President Asif Ali Zardari and the weak government led by his Pakistan People's Party.

Opposition parties have stepped up their calls for the government to resign and hold early elections.