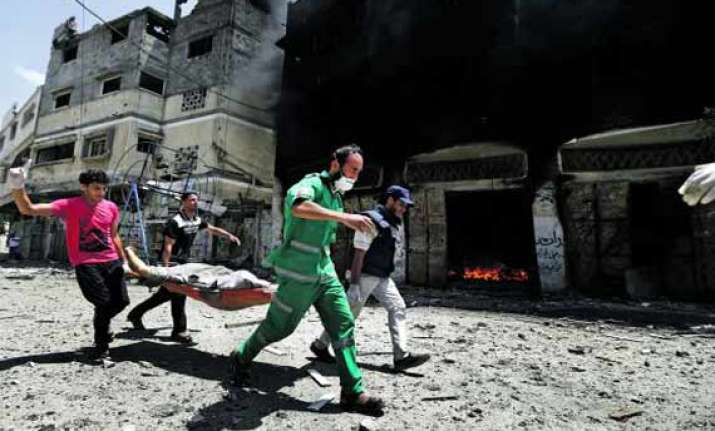 Gaza/Jerusalem: Israel today pressed ahead with its heavy bombardment of Gaza and foiled major infiltration attempts by Hamas on the 14th day of the conflict that has killed 524 Palestinians and 20 Israelis, even as the UN and the US called for an "immediate ceasefire".  A day after Israel's deadliest attack on Gaza in recent years killed about 150 people, more than 10 Hamas militants were shot dead today after infiltrating southern Israel.  
Two Hamas cells tried to infiltrate Israel to carry out an attack through tunnels from northern Gaza but they were identified by the Israel Defense Forces (IDF) and an aircraft was dispatched to intercept them, the army said.  "The first cell was struck from the air, and ten of its members were killed", it said.
The second squad tried to approach Niram kibbutz close to Gaza's northeastern tip, where they were engaged in a fierce gun battle with soldiers in which they also fired anti-tank weapons.
Several soldiers were wounded, the army said, without giving further details.
In the latest incident, tank-shelling on a hospital in Deir al-Balah in central Gaza killed five people.  The deaths across Gaza today pushed the Palestinian toll to at least 524 in 14 days of fighting.
At least 20 bodies were found near the city of Khan Younis after an Israeli airstrike and two people were pulled alive from the rubble, a health official said, adding that over 3,100 Palestinians have been injured so far.  
Twenty Israelis, including 18 soldiers, have died so far in the Operation Protective Edge launched on July 8.  Meanwhile, the UN Security Council held urgent talks on the conflict late last night, expressing "serious concern" about the rising death toll and demanding "an immediate cessation of hostilities."
UN chief Ban Ki-moon met Palestinian Authority President Mahmoud Abbas in Qatar to end the escalating conflict that has also displaced thousands.
US President Barack Obama in a telephone conversation with Israeli Prime Minister Benjamin Netanyahu also called for an immediate end to hostilities.