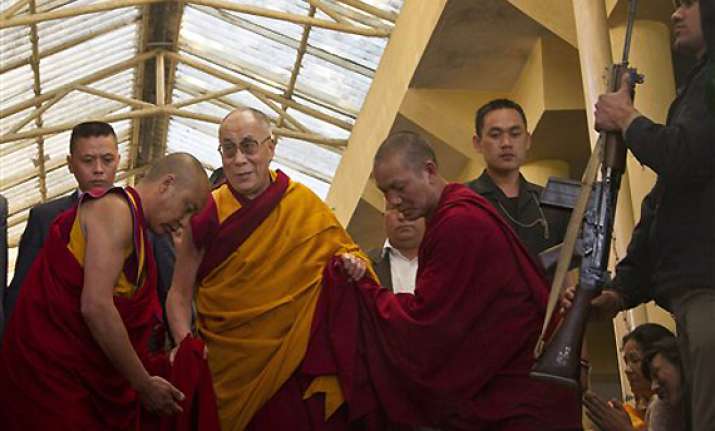 Dharamsala/New Delhi, Oct 19: The Dalai Lama on Wednesday fasted and led prayers in honor of nine Tibetans who set themselves on fire in apparent protest against China's tight grip over Buddhist practices in Tibet.

A 90-minute-long prayer service at the Dalai Lama's Tsuglakhang Temple, in the northern Indian town of Dharmsala, was in honor of the monks, former monks and a nun who have self-immolated since March calling for religious freedom and the return of the Dalai Lama.

Aged in their late teens and twenties, at least five died of their injuries, while the condition of the other four is not known.

At the service, the newly elected prime minister of the Tibetan government-in-exile, Lobsang Sangay, urged China to stop repression in Tibet and called on the United Nations to send fact-finding teams to the Himalayan region.

Sangay, speaking in Tibetan, said China was following an official policy of cracking down on religious institutions in Tibet.

"We would like to appeal to the Chinese government to immediately stop its repressive policies in Tibet, and to resolve the issue of Tibet through peaceful means," Sangay said.

The Dalai Lama observed a daylong fast Wednesday in honor of those who have died or injured themselves through self-immolation, the first time he has done so since widespread protests rocked the region in the run-up to the 2008 Olympics.

The prayers were attended by the Karmapa, head of the second-largest school of Tibetan Buddhism, and Kirti Rinpoche, the exiled head of the Kirti monastery in China's western province of Sichuan near Tibet.

 Most of the monks and former monks who have self-immolated belonged to Kirti monastery.

In Delhi, Tibetan monks and other Indian religious leaders held an all-faith prayers on Wednesday in honour of nine Tibetans who set themselves on fire.

Nearly three thousand Tibetan monks in exile gathered at  Rajghat, the samadhi of Mahatma Gandhi to mark a day of fasting and prayers.

After offering prayers, the monks marched to New Delhi's central district where they held a sit-in demonstration.