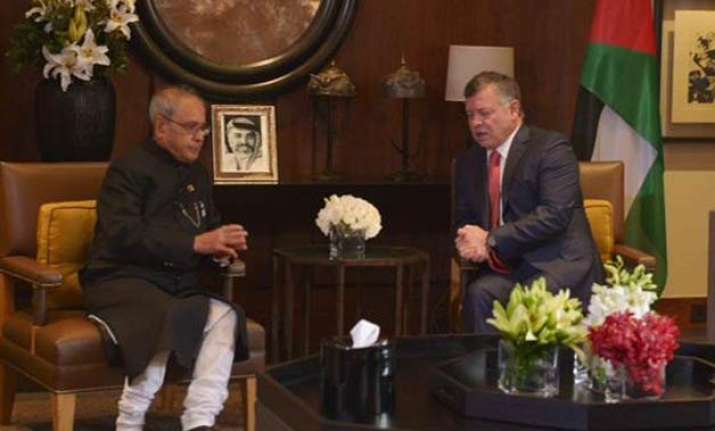 Amman: Ahead of his visit to Palestine and Israel, President Pranab Mukherjee today affirmed India's "unflinching commitment to sustaining and expanding relations" with the Arab world even as it pursues strong relations with the Jewish state.
The President, who will arrive in Palestine tomorrow, said, "our bilateral relations with Israel are independent of our relations with Palestine."
Mukherjee's three-day visit to Israel beginning Oct 13 is the first by an Indian head of state that comes amidst a growing relationship with that country in defence and other areas and comments that India's support for the Palestine cause may be getting diluted.
His remarks in an address to the University of Jordan after he was conferred a honorary doctorate are seen as an attempt to put an end to such speculation.
"India has an unflinching commitment to sustaining and expanding relations with the Arab world. Our ties are ancient and civilisational. West Asia is a vital part of India's extended neighbourhood and millions of Indians live and work here......India's traditional support to the Palestinian cause remains steadfast and unwavering while we pursue strong relations with Israel. Our bilateral relations are independent of our relations with Palestine.
"India supports a negotiated solution resulting in a sovereign, independent, viable and united State of Palestine, with East Jerusalem as its capital, living within secure and recognised borders," said the President, who has held various portfolios in the Union Cabinet under UPA, including that of External Affairs, before his elevation.
The President said India desired to see Palestine living side by side at peace with Israel as endorsed in the Quartet Roadmap and relevant UNSC Resolutions.
"India has played a proactive role in garnering support for this cause in all multilateral fora. We have called upon both sides to exercise restraint and work towards a comprehensive resolution of the issue. We have been happy to provide budgetary, economic and developmental assistance to Palestine," he recalled.
Mukherjee quoted Mahatma Gandhi's words to say, "Palestine belongs to the Arabs in the same sense that England belongs to the English and France to the French."
He said India stood ready to work with all like-minded nations for the amicable resolution of this protracted conflict.
The President used the occasion to commend Jordan's active and untiring efforts for peace in the region. Over the years, he said, the relationship between India and Jordan has been enhanced by the excellent understanding between the two governments on regional and global issues and support for each other in multilateral fora including the United Nations.
"Our convergence of views on Palestine, the Middle East Peace Process, Syria, Iraq and the challenges confronting us in this regionl today--and our agreement on the need to expedite UNSC reforms reflect our common approach to these important issues," the President said.
He said India also remained deeply concerned at the ongoing violence in Syria. "We are saddened by the tragic loss of lives and the long suffering of millions of displaced citizens - including innocent women and children.
We laud Jordan's humanitarian assistance and sheltering of 1.4 million refugees- despite its own severe domestic constraints and believe that this human tragedy should never have been allowed to happen in the first place.
India, he said, has been consistently calling for all sides in the Syrian conflict to abjure violence so that conditions can be created for an inclusive political dialogue.
"We see this as the only path to a comprehensive, permanent, political solution as there can be no military solution to this conflict. We have been stating that such a
dialogue must take into account the legitimate aspirations of the people of Syria.
"India believes that Syria has a key and fundamental part to play in achieving peace and stability in West Asia. Prolonged conflict in Syria has already begun to have a severe impact on the region and beyond," the President said.
He said the fragile security situation in Iraq was, no less, a matter of grave concern. "The rise of intolerance and sectarian violence calls for a comprehensive approach for achieving a political solution in Iraq.
"On our part, India is committed to non-interference in the internal affairs of other countries. However, we are directly affected by terror and strife in this region. We sincerely desire stability and prosperity for the friendly people of Iraq with whom we have close ties that are ancient and civilisational," he said.