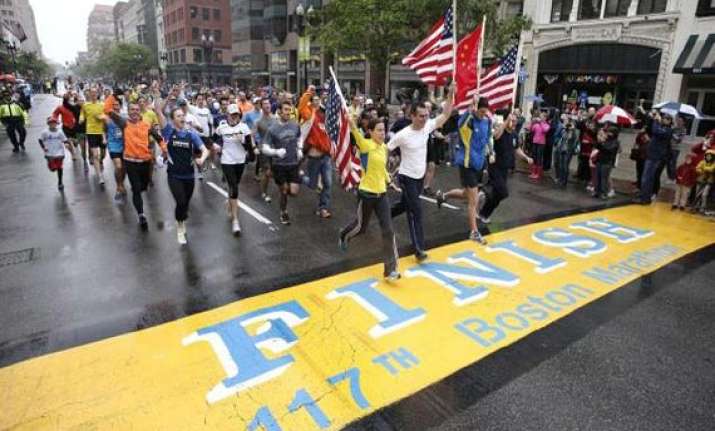 Boston, May 26: About 2,000 people, including Boston blasts victims, have symbolically finished the marathon at an emotional event meant to show that the city has taken back ownership of the popular race that was targeted in a terror attack last month.
Nearly seven weeks after two bombs went off near the finish line of the Boston Marathon, about 2,000 people on Saturday ran the last 1.6 kilometres of the 42-kilometre race, crossing the finish line.
The impetus to run the final mile came from a group called 'OneRun', which was represented by spokesperson Kathleen McGonagle.
Tom Grilk, the executive director of the Boston Athletic Association, organised the effort to give runners and those looking to honour victims a true Boston Marathon experience.
A cold drizzle didn't stop the marathon runners from running the final mile. It was their chance to "to run that final mile, stolen from us," J Alain Ferry, who also helped organise the run, said.
The bombings killed three people and injured more than 250 people. Some of the victims were among the runners.
Kyle Shade, 26, carried a Chinese flag to honour Lu Lingzi, a Chinese student who was killed in the bombing, The Sacramento Bee reported.
Jarrod Clowery, 35, a survivor of the Boston Marathon bombings, still facing at least two surgeries on legs riddled with burns and shrapnel wounds attended the 'OneRun.'
Mr. Clowery walked only the final blocks, from the Forum restaurant where he was injured to the finish line, because of his injuries.
"I feel obligated to give back," he was quoted by the Boston Globe as saying.
Bombing suspect 19 year old Dzhokhar Tsarnaev is in police custody. His brother, Tamerlan Tsarnaev, 26, was killed during an April 19 shootout with police after authorities linked him to the bombings.
The brothers allegedly carried out the marathon attack and later led police on a chase.
On Wednesday an FBI agent shot and killed a man who was believed to have ties to Tamerlan. The man, Ibragim Todashev, told officials before he was shot that he and Tamerlan had killed three people in 2011 in Massachusetts.