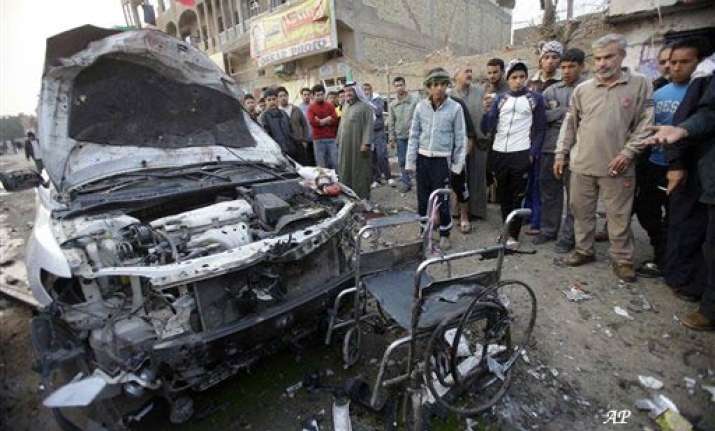 Baghdad, Feb 17: A car bomb killed 13 people at a vehicle trade fair in the deadliest of a string of attacks today in which 16 died, including a university professor hanged in his home.Among those killed were a journalist, the professor and a Sunni Muslim imam, while 35 other people were wounded, security officials said.
In the worst violence, a vehicle packed with explosives was detonated in the middle of a car sales fair in the town of Muqdadiyah, northeast of Baghdad in restive Diyala province.Iraqi army Major Abbas al-Tamim put the casualty toll at 13 dead and 35 wounded.
Muqdadiyah is a mostly Shiite Muslim town with a substantial Sunni population.While violence has declined nationwide since its peak in 2006 and 2007, Diyala remains one of Iraq's least secure regions.In the northern city of Mosul, an Iraqi journalist was gunned down outside his home and a Sunni imam was killed inside his house, local police said.
Two gunmen shot dead Hilal al-Ahmadi, 50 and a father of four, as he left his home in Mithaq, an eastern district of Mosul, a police captain said, asking not to be named.Ahmadi worked for two local weeklies, Mosul Echo and Iraqiyoun.
Paris-based watchdog Reporters Without Borders (RSF) condemned the murder and demanded an investigation into Ahmadi's killing.
"The murders of journalists in Iraq are not letting up and generalised impunity is fuelling the cycle of violence," RSF secretary-general Jean-Francoi Julliard said in a statement.According to Iraq's Journalistic Freedoms Observatory,more than 250 journalists and media workers have been killed in the country since the 2003 US-led invasion. AFP