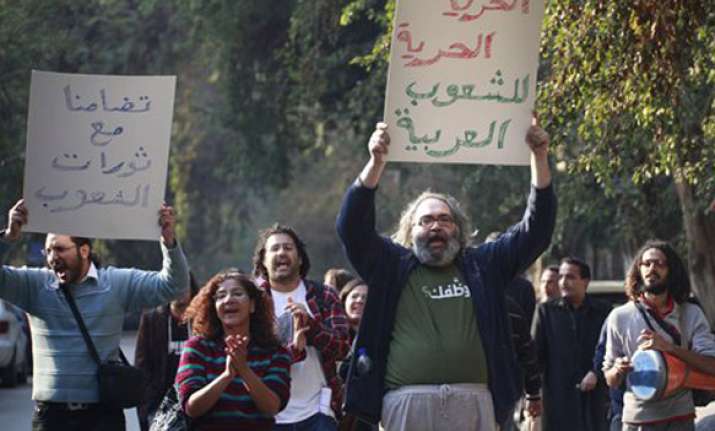 Tripoli, Feb 18 : Seven people were killed in the Libyan city of Benghazi in clashes between security forces and anti-regime protesters, a medical official told AFP, raising the day's toll by one.
"Seven protesters were killed in the demonstrations yesterday at Benghazi," the medical official who requested anonymity said, without giving further details.
Shortly after the newspaper Quryna, which is close to the son of Libyan leader Moamer Kadhafi, reported the same death toll, citing a security official.
Gunfire rang out in several parts of the city on the third straight day of protests against the long-time Libyan leader, Ramadan Briki, chief editor of the Quryna newspaper in Benghazi, told AFP.
"It is the first time that we have heard shooting in the city," Briki said. "Given the difficulties, we are unable to know if there are fatalities or not."
Separately, lawyers demonstrated in front of a courthouse in Benghazi - Libya's second city after Tripoli - to demand a constitution for the country.
The websites Al-Youm and Al-Manara, monitored in Nicosia, said at least four people were killed in the city of Al-Baida, 200 kilometres (120 miles) east of Benghazi, on Wednesday.
Sites monitored in Cyprus and a Libyan human rights group based abroad reported earlier that the anti-Kadhafi protests in Al-Baida had cost as many as 13 lives.(AFP)