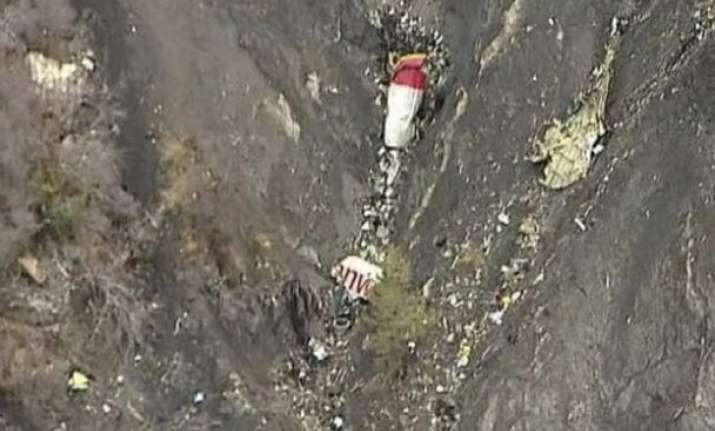 Seyne, France: All 150 passengers on board the Germanwings Airbus 320, which crashed in the remote area of French Alps on Tuesday, have lost their lives.
The worst plane disaster of mainland France in last four decades had 144 passengers on board – mainly Spanish and German and six crew members.
French Prime Minister Manuel Valls said there were no survivors, adding that the authorities "can't rule out any theory" on the cause of the disaster.
 Germanwings said that the Airbus A320 plunged for eight minutes into a snowbound inaccessible mountain area in southeastern France, however, as per the French officials, there was no distress signal from the plane which was travelling from Barcelona to the western German city of Dusseldorf when it came down near the ski resort of Barcelonnette.
Hollande said the dead included Germans, Spaniards and "probably" Turks, while Belgium said at least one of its nationals was on board.
Germanwings said that 67 Germans were believed to have been on board while Spain has claimed 45 people with Spanish sounding names as tearful relatives are turning to airports in both Spain and Germany.
Spanish authorities also fear 16 German teenagers on a school trip on board the doomed plane.
French President Francois Hollande said, "It is a tragedy, a new airline tragedy, we will determine what caused the crash."
French civil aviation authorities said they lost contact with the plane and declared it was in distress at 10:30am.
"The crew did not send a Mayday. It was air traffic control that decided to declare the plane was in distress because there was no contact with the crew of the plane," the source said.
What locals and witnesses say on crash of Airbus320
A witness who was skiing near the crash site told French television that he "heard an enormous noise" around the time of the disaster.
While a locale told that "the ground access is horrible in the high mountainous area of Estrop massif". He said, "It is very steep and it's terrible to get there except from the air during winter".
A crisis cell has been set up in the area between Barcelonette and Digne-les-Bains along with an emergency flight control centre to coordinate the operation to the crash site.
A French police helicopter dispatched to the site of the crash has also reported spotting debris in a mountain range known as "Les Trois Eveches," which lies at an altitude of 1,400 metres (4,600 feet).
Chancellor Angela Merkel said she was "shocked" by news of the accident and would immediately travel to the crash site, while Spanish King Felipe VI cut short his state visit to France after news of the tragedy.
Lufthansa chief executive Carsten Spohr described it as a "dark day."