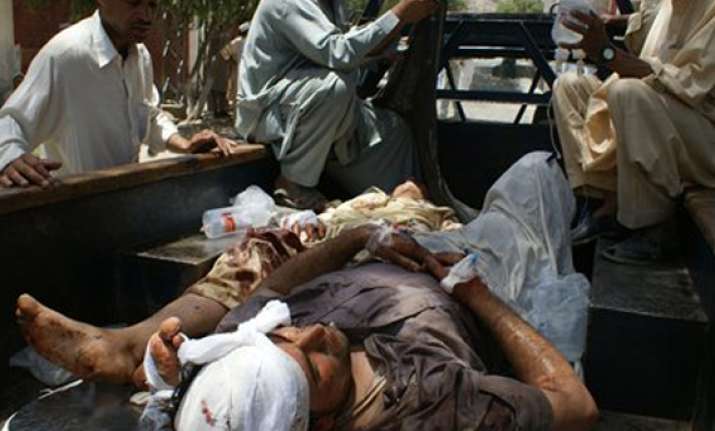 Islamabad, Jun 28: A suspected suicide bomber today targeted a bus carrying Shia pilgrims in Quetta city of southwest Pakistan, killing 13 people and injuring over 30 others, officials said.
The blast ripped through the bus and a police vehicle in Hazarganji area of Quetta, the capital of Balochistan province.
The bus, escorted by two police vans, was bringing back pilgrims from Iran. About 40 people were in the bus.  Officials at hospitals said a total of 13 people had died. Two policemen were among the dead, officials said.  Several women and policemen were injured and eight of the wounded were in a serious condition. 
Quetta police chief Mir Zubair Mehmood the bus was targeted with a car bomb though other officials were quoted by TV news channels as saying that the attack was carried out by a suicide bomber.
Officials of the bomb disposal squad said about 50 kg of explosives was used in the attack. The site of the blast was cordoned off by security personnel.  Footage on television showed the bus was reduced to a mangled heap of blackened metal.
Rescue workers and local residents could be seen pulling bodies and injured out of the bus.
Later, a crane was brought in to pry apart the twisted metal so that the injured could be removed.  No group claimed responsibility for the attack.  The banned Lashkar-e-Jhangvi has been blamed for a series of attacks on Shias in Quetta and other parts of Balochistan since last year.
A prominent Shia group called for 40 days of mourning and a strike tomorrow to protest the attack.