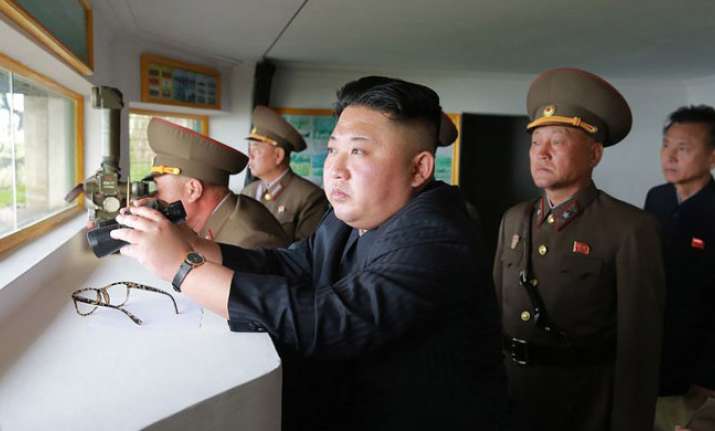 The United Nations Security Council on Monday unanimously passed a US-drafted resolution that imposes fresh sanctions on North Korea, with measures targeting its last remaining major exports and reducing about 30 percent of oil provided to it. The resolution, however, is watered down version of the sanctions Trump administration wanted to impose on Pyongyang.
"Today, we are saying the world will never accept a nuclear-armed North Korea. And today, the Security Council is saying that if the North Korean regime does not halt its nuclear program, we will act to stop it ourselves," the US Ambassador to the UN, Nikki Haley, said as the 15-membered UN body passed the resolution 2375 on North Korea. 
"We are done trying to prod the regime to do the right thing. We are now acting to stop it from having the ability to continue doing the wrong thing," she said. 
Haley said the international community is doing that by hitting North Korea's ability to fuel and fund its weapons program. 
The resolution, which comes as a response to Pyongyang's sixth and strongest nuclear test explosion on September 3, bans North Korea from importing all natural gas liquids and condensates. It also bans all textile exports and prohibits any country from authorizing new work permits for North Korean workers — two key sources of hard currency for the northeast Asian nation.
A US official, speaking on condition of anonymity ahead of the council vote, said the Trump administration expects the cutoff on new work permits will cost North Korea about $500 million a year once current work permits expire. The US estimates about 93,000 North Koreans are currently working abroad, the official said.
Noting that oil is the lifeblood of North Korea's effort to build and deliver a nuclear weapon, Haley said the resolution reduces almost 30 per cent of oil provided to North Korea by cutting off over 55 per cent of its gas, diesel, and heavy fuel oil. 
Earlier, Trump administration wanted to ban all oil imports and freeze international assets of the government and its leader, Kim Jong Un.
The resolution caps Pyongyang's imports of crude oil at the level of the last 12 months, and it limits the import of refined petroleum products to 2 million barrels a year.
According to the US Energy Information Administration, China supplies most of North Korea's crude oil imports, which the US official put at 4 million barrels a year.
"Further, today's resolution completely bans natural gas and other oil byproducts that could be used as substitutes for the reduced petroleum. This will cut deep," Haley said after the resolution. 
Haley said these are by far the strongest measures ever imposed on North Korea. 
"They give us a much better chance to halt the regime's ability to fuel and finance its nuclear and missile programs. But we all know these steps only work if all nations implement them completely and aggressively," she said. 
When these new stronger sanctions are added to those passed last month, over 90 percent of North Korea's publicly reported exports are now fully banned. 
Moreover, this resolution also puts an end to the regime making money from the 93,000 North Korean citizens it sends overseas to work and heavily taxes, she noted. 
This ban will eventually starve the regime of an additional USD 500 million or more in annual revenues, she added. 
Beyond the USD 1.3 billion in annual revenues we will cut from North Korea, new maritime authorities will help us stop them from obtaining funds by smuggling coal and other prohibited materials around the world by ship, the top American diplomat said. 
The resolution bans all North Korean textile exports. 
Textiles are North Korea's main source of export revenue after coal, iron, seafood and other minerals that have already been severely restricted by previous U.N. resolutions. North Korean textile exports in 2016 totalled $752.5 million, accounting for about one-fourth of its total $3 billion in merchandise exports, according to South Korean government figures.
The resolution requires the end of all joint ventures with North Korea. 
This will not only starve the regime of any revenues generated through such arrangements, it will now stop all future foreign investments and technology transfers to help North Korea's nascent and weak commercial industries, a US fact sheet said.
Haley reiterated that the US does not want war. "North Korea has not yet passed the point of no return," she said. If Pyongyang gives up its nuclear program and proves it can live in peace, the world will live in peace with it, she said.
The final agreement was reached after negotiations between the US and China, the North's ally and major trading partner. Haley praised the "strong relationship" between President Donald Trump and Chinese President Xi Jinping as key factors in the resolution's adoption.
But its provisions are a significant climb-down from the toughest-ever sanctions the Trump administration proposed last Tuesday, especially on oil, where a complete ban could have crippled North Korea's economy.
(With agencies)