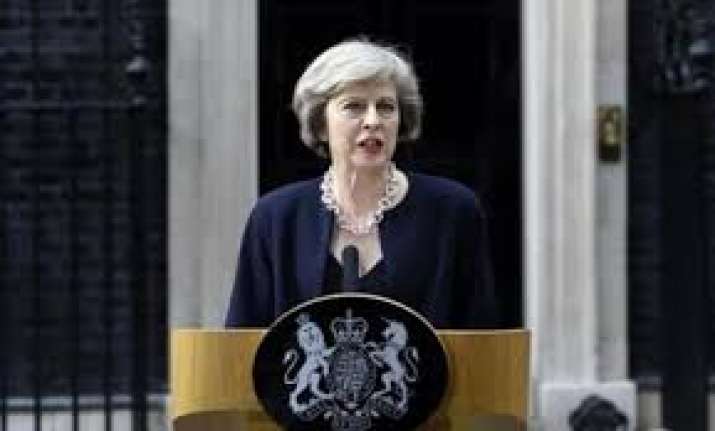 British Prime Minister Theresa May on Friday announced she would step down as Conservative leader on June 7 after failing to convince MPs to support her Brexit deal.
"It is and will always remain a matter of deep regret to me that I have not been able to deliver Brexit," May said, in a statement outside her Downing Street residence.
May met with the chair of the Conservative Party's influential 1922 Committee of backbench MPs on Friday during which she unveiled her plans to step down as Tory leader, triggering a leadership contest within the ruling party by June 10.
May, who had been under constant pressure to step down since having survived a vote of no-confidence in December 2018, had even announced that she would set out her Downing Street exit plan once she had seen the first stage of Brexit through.
However, that exit has been precipitated as it became clear that the first stage of Brexit, passage of her Brexit Withdrawal Agreement, is unlikely to go through a fourth parliamentary vote. 
To add to her woes, she is also unlikely to survive the fallout from the European elections held on Thursday – the results of which are expected to deliver a massive bruising for the Tories when the results unfold on Sunday.
Voters are expected to punish both the Tories and the Opposition Labour Party for being forced to vote in a European Union (EU) elections despite the June 2016 referendum in favour of Brexit. 
The UK was to have left the 28-member economic bloc by March 29 but failed to meet that deadline and now faces a renewed Brexit deadline of October 31.
The next stage of negotiations with the EU are now likely to be taken ahead by a new incumbent in Downing Street, with former foreign secretary Boris Johnson seen as a frontrunner from the pro-Brexit wing of the ruling party. 
However, a host of other contenders are expected to throw their hat in the ring, including fellow Brexiteer Dominic Raab as well as Cabinet ministers Sajid Javid, Michael Gove, Amber Rudd and Matt Hancock.
The UK Parliament has remained in deadlock since it rejected May's Brexit deal negotiated with the EU three times.