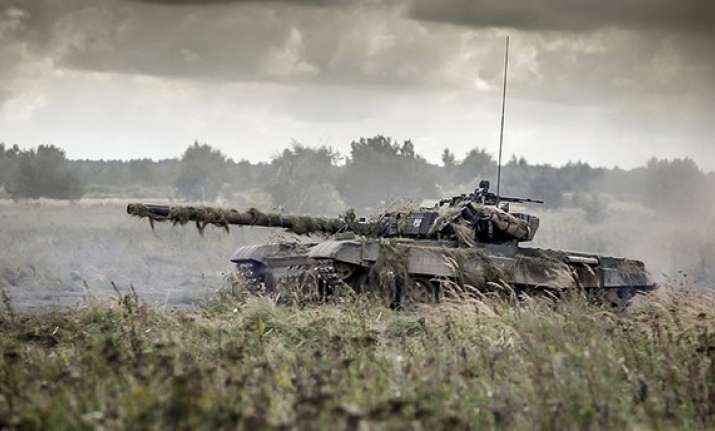 Russian troops will take part in country's largest military drills on Tuesday, including 300,000 troops and Chinese soldiers. The massive-show was criticized by the North Atlantic Treaty Organization (NATO) as a rehearsal for "large-scale conflict". The week-long rehearsal dubbed "Vostok-2018" (East-2018) will begin in eastern Siberia.
President Vladimir Putin will be attending the war game after hosting an economic forum in Vladivostok where Xi Jinping, President of the People's Republic of China, will be one of the chief guests.
Theses military drills are organised at a controversial time of increasing tensions between Moscow and the West and ongoing dispute in Ukraine and Syria.
The largest military exercise was organised by USSR in 1981 with 150,000 Warsaw Pact soldiers in "Zapad-81" (West-81). According to Defence Minister Sergei Shoigu, this military drill would be larger than the 1981's with 300,000 soldiers, 36,000 military vehicles, 1,000 planes and 80 warships taking part in it. 
This drill will witness all of Russia's latest additions, Iskander missiles, T-80 and T-90 tanks and Su-34, Su-35 fighter planes. Rusian fleet will deploy frigates equipped with Kalibr missiles that were used in Syria. 
Alliance's spokesman Dylan White was quoted by AFP as saying "It fits into a pattern we have seen over some time, a more assertive Russia, significantly increasing its defence budget and its military presence".
AFP quoted Kremlin's spokesperson Dmitry Peskov as saying that Russia's "ability to defend itself in the current international situation which is often aggressive and unfriendly to our country is justified, essential and without alternative". Accusations were made on NATO of threatening Russian national security, by Kremlin.
Vostok-14, Russia's last military drill, was half the size of Vostok-2018, with only 155,000 soldiers participating. An increase in number of large-scale military drills by Moscow was recorded in the Baltic, the Arctic and the Caucasus.
Zapad-2017 organised last year in eastern Europe by Russia, witnessed 12,700 troops take part in the show. The true number was bigger than the recorded one, said Ukraine and the Baltic states.