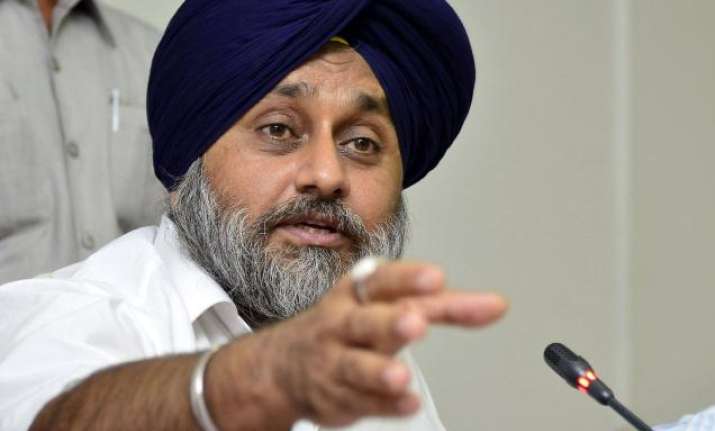 Punjab Deputy Chief Minister Sukhbir Singh Badal on Sunday opined that Pakistan could be behind the sensational Nabha jailbreak, saying the neighbouring country was "desperate to revive terrorism" after Indian army conducted the surgical strike across the LoC. 
"Pak desperate to revive terror post surgical strike. Could be behind jail break," Sukhbir, who also spoke to the National Security Advisor Ajit Doval after the incident, tweeted. 
The Deputy CM, who also holds Home portfolio, however said that the state government would uncover the conspiracy behind the jail break incident at all cost. 
"We will uncover the conspiracy behind terrorist - gangster Nabha jail break at all cost. 
"State police is investigating conspiracy between terrorists and gangsters to disturb peace in Punjab before elections," Sukhbir tweeted. 
Officials said that Sukhbir appraised Doval of the details of the incident and updated him on the steps being taken to apprehend six culprits. 
In a sensational jailbreak, a group of armed men in police uniform today attacked the high-security Nabha Jail and fled with six prisoners, including Khalistan Liberation Front chief Harminder Mintoo.
Mintoo had been to Pakistan a few times and had reportedly got training from the Inter-Services Intelligence (ISI).
Jail officials told police that the attackers entered the prison premises by telling the outer security that they had brought a prisoner for verification. Their vehicles were allowed entry easily.
The attackers, dressed in police uniform, breached the tight security of the prison around 9 a.m. with at least 100 rounds fired during the well-planned and executed attack, jail officials said.
(With PTI inputs)