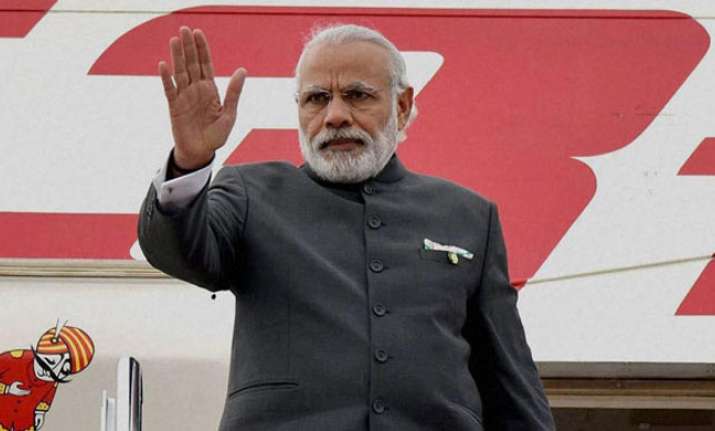 Prime Minister Narendra Modi is all set to get a red carpet welcome on his Israel visit from July 4 to 6 – the first ever trip by an Indian Prime Minister to the Jewish state. 
The importance that PM Modi's visit holds for the West Asian country can be judged from the fact that he will be received by his Israeli counterpart Benjamin Netanyahu at Ben-Gurion Airport on July 4. 
This is a rare gesture that Israel usually reserves for visits of US presidents and the Pope. Netanyahu is also expected to accompany PM Modi throughout most of his three day-visit. 
During his visit, PM Modi is expected to meet Moshe, the 11-year-old survivor of 2008 Mumbai terror attacks. One of the sites that came under attack was the Mumbai Chabad house. Six people died in the attack, including Rabbi Gabriel and Rivka Hotlzberg. 
Their then-toddler Moshe, who was two years old at the time, was rescued by his Indian babysitter who risked her life to save him. He has since moved to Israel, where he lives with his maternal grandparents. 
According to an Economic Times report, PM Modi will be staying in the same luxury suite at King David Hotel where US President Donald Trump stayed during his recent visit. 
The hotel is making significant adjustments to the menu for the luncheon meeting between PM Modi and Netanyahu. It has secured the services of Israeli-Indian restaurateur Reena Pushkarna and her team of chefs for vegetarian cuisine. 
Furthermore, the hotel's bar has been converted to a temporary press lounge. 
To ensure the best of the preparations, eight delegations from India have visited Israel during the last three months. As was the case with Trump, when Modi leaves Israel on the morning of July 6, everything at the hotel will remain in place for at least two hours till his plane is out of the Israeli air space in case there is a reason for the plane to turn back.
Cyber security is one of the key areas of cooperation to be discussed with Narendra Modi, Netanyahu has said ahead of his Indian counterpart's visit to Israel. 
"Once it was a disadvantage to say that you are from Israel. Today when you talk about cyber or advanced technology, it is an advantage to say we are an Israeli company. The whole world wants us. The whole world is coming here", Netanyahu said in his remarks at the Cyber Week 2017 conference in Tel Aviv University. 
Terming Modi, as "one of the most important prime ministers of the world", Netanyahu said the Indian leader wants close cooperation with Israel in many areas including in cyber. 
"For example, there is going to be a visit of Prime Minister of India, one of the most important Prime minister's of the world, with the third largest economy in the world growing very fast. He wants close cooperation with Israel in many fields -- water, agriculture, health and also in cyber. 
And he has a good reason to do so", the Israeli Prime Minister told the gathering in Hebrew as per a video released by his office.