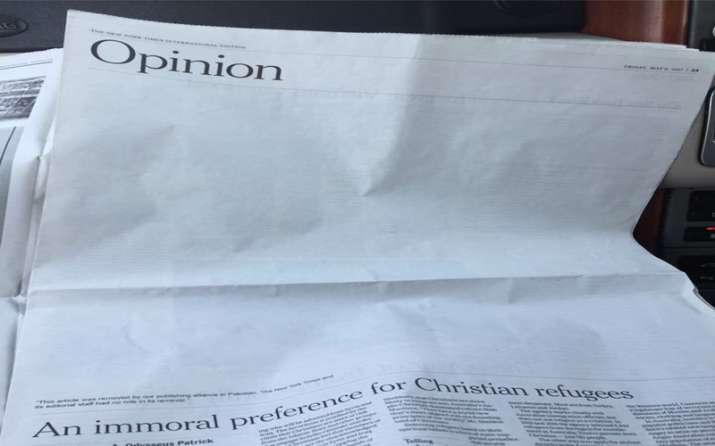 In an unabashed move that proves Pakistan's insecurity in dealing with dissent, a newspaper critique of the Pakistan Army in the local edition of the reputed New York Times was brutally censored and replaced with a blank space.
The move by Express Tribune, the local publisher of the NYT in Pakistan, displays the fear in the Pakistani community in speaking out against the military establishment.
The censored article titled 'Pakistan's triangle of hate' was penned by a high-profile satirist and novelist, named Mohammad Hanif, who regularly write features about Pakistani society in the NYT.
Pakistani military's cheap move of parading a former Taliban spokesman in front of television cameras and accusing India of supporting militants was viciously criticized in the article.
"With his appearance [former Pakistani Taliban spokesperson Ehsanullah Ehsan], the Pakistani Army seemed to be sending this message: You can kill thousands of Pakistanis, but if you later testify that you hate India as much as we do, everything will be forgiven," Hanif's article reads.
The writer, who calls India as Pakistan's "forever existential enemy", also asks: "Do we really need to enlist our children's killers in our campaign against India?"
Hanif mentions in his articles that the Taliban spokesman Ehsan is the same guy who claimed responsibility for Pakistan's deadliest militant attack, the Peshawar school attack, killing more than 150 people, mostly children. He also took responsibility on behalf of his militant group for shooting Malala Yousafzai in Swat Valley in 2012.
After blanking out NYT article on "Chechnya's anti-gay pogrom" on Thursday, May 4, this is the second-time Express Tribune has done it.
It clarified the decision to censor Hanif's article saying NYT had "no role in its removal".
"While we understand that our publishing partners are sometimes faced with local pressures, we regret and condemn any censorship of our journalism," a spokeswoman for NYT told the AFP news agency.
The online version of the article, however, was trending in Pakistan by afternoon. Social media users hinted at the hand of the powerful Pakistani army behind the decision.
Earlier, the Pakistani paper had censored an NYT image of two Chinese men kissing on the cover page of its international edition in January 2016.
It also blanked out a report by NYT about Islamabad's knowledge of al-Qaeda leader Osama bin Laden's last hiding place.