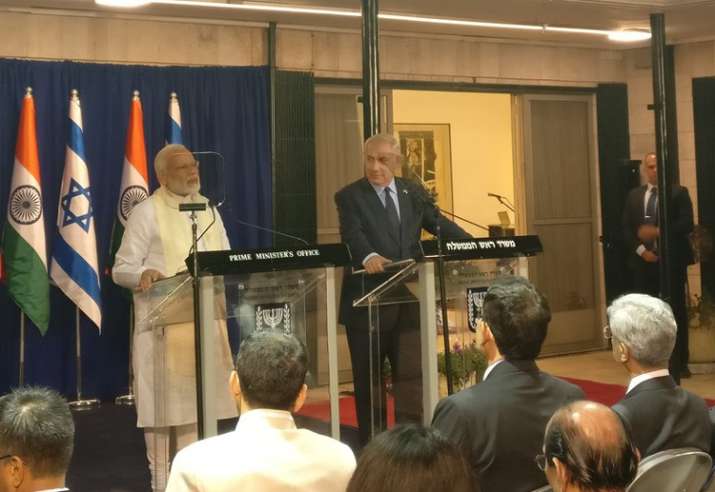 Prime Minister Narendra Modi today arrived here on a three-day historic visit – the first ever trip by an Indian PM to the Jewish state. Breaking all protocols, Israel's PM Benjamin Netanyahu received him at Ben-Gurion Airport in the capital city. 
This was a rare gesture that Israel usually reserves for visits of US presidents and the Pope. Netanyahu will accompany PM Modi throughout most of his three day-visit. Modi, who was given a red carpet welcome, hugged Netanyahu after descending from the special aircraft. 
PM Modi and Israeli PM Benjamin Netanyahu issued joint press statement. Here are the highlights: 
* We must resolutely oppose evils of terrorism, radicalism and violence: PM Modi 
* Most grateful to their warm and generous hospitality: PM Modi to Netanyahu
* We also face common challenges, first of it is to defeat forces of terror. Need to stand and work together: Israeli PM
* We believe we can together do great things for betterment of future of our people: Netanyahu 
* Welcoming Modi on Israeli soil, Netanyahu said in Hindi, "Aapka Swagat Hai Mere Dost (Welcome my friend)." 
Earlier, Modi was welcomed at Ben-Gurion Airport where he said, "We have been waiting for you, for a long time. We love India." 
"I remember what you told me in our first meeting- when it comes to India & Israel relations, the sky is the limit. But now, Prime Minister, let me add- we are also cooperating in space," Netanyahu said in his welcome address. 
"You are a great leader of India and a great world leader. Together, we can do even more and even better (for India-Israel ties)," he said. 
Modi thanked Netanyahu for receiving him and said, "My visit is about the strength of our societies and our strong partnership." 
"I thank my friend PM Netanyahu for receiving me. My honour to be the 1st ever Indian PM to undertake this ground breaking visit to Israel,"  he said. 
"India is an old civilisation but young nation. We have a talented and skilled youth, who are our driving force. We consider Israel an important development partner," Modi said. 
​Hours before his departure, PM Modi on Monday said that he will discuss with Netanyahu common challenges like terrorism and ways to boost economic ties.
Israeli Prime Minister Benjamin Netanyahu receives PM Modi at Ben Gurion Airport #ModiInIsrael pic.twitter.com/FgFm5RWPES

— ANI (@ANI) July 4, 2017
In a statement posted on his Facebook page, Modi said, "I am greatly looking forward to this unprecedented visit that will bring our two countries and people closer." This year, India and Israel are marking 25 years of diplomatic relations.  
The Prime Minister said he will have "in-depth talks" with Netanyahu "on the "full spectrum of our partnership." 
"I will have in-depth talks with Prime Minister Netanyahu on the full spectrum of our partnership and strengthening it in diverse fields for mutual benefit. We will also have the chance to discuss major common challenges like terrorism," Modi said. 
In Israel, he will also meet President Reuven Ruvi Rivlin and address the CEOs of the two countries as well as the Indian diaspora.
He will also visit the Yad Vashem Memorial Museum to honour the memory of the victims of the holocaust that counts among the greatest tragedies in human history.
Modi will also pay his respects to the courageous Indian soldiers who laid down their lives during the liberation of Haifa in 1918.
"My programme during the visit gives me an opportunity to engage with a cross-section of Israeli society. I am particularly looking forward to interacting with the large vibrant Indian diaspora in Israel that represents an enduring link between our two peoples," Modi said.
During his visit, PM Modi is expected to meet Moshe, the 11-year-old survivor of 2008 Mumbai terror attacks. One of the sites that came under attack was the Mumbai Chabad house. Six people died in the attack, including Rabbi Gabriel and Rivka Hotlzberg. 
Their then-toddler Moshe, who was two years old at the time, was rescued by his Indian babysitter who risked her life to save him. He has since moved to Israel, where he lives with his maternal grandparents. 
According to an Economic Times report, PM Modi will be staying in the same luxury suite at King David Hotel where US President Donald Trump stayed during his recent visit. 
The hotel is making significant adjustments to the menu for the luncheon meeting between PM Modi and Netanyahu. It has secured the services of Israeli-Indian restaurateur Reena Pushkarna and her team of chefs for vegetarian cuisine. 
Furthermore, the hotel's bar has been converted to a temporary press lounge. 
To ensure the best of the preparations, eight delegations from India have visited Israel during the last three months. As was the case with Trump, when Modi leaves Israel on the morning of July 6, everything at the hotel will remain in place for at least two hours till his plane is out of the Israeli air space in case there is a reason for the plane to turn back.