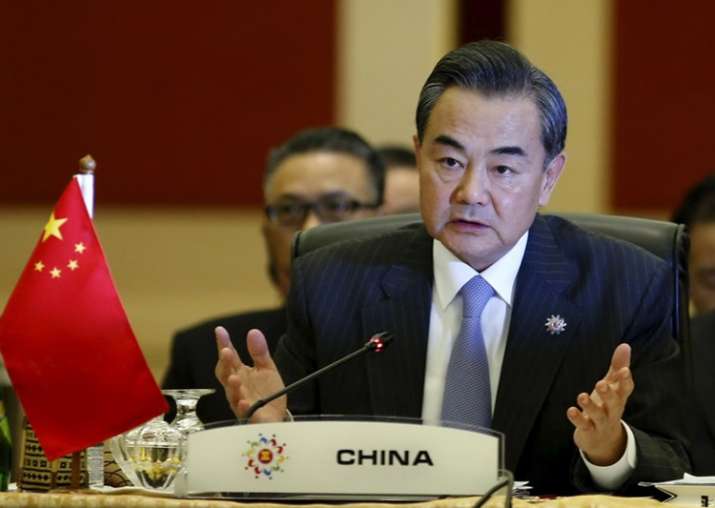 Chinese Foreign Minister Wang Yi today said that 'India was responsible for the latest border row' and asked New Delhi to withdraw troops from Doklama, which Beijing calls its territory.
 
"The rights and wrongs are very clear, and even senior Indian officials have openly stated that Chinese troops did not enter into the Indian boundary. So India has admitted it crossed into the Chinese territory," Wang.
"The solution is very simple. India must conscientiously pull back its troops," Wang added. 
This is the first time a top Chinese government official has reacted to the festering border dispute in Sikkim sector, where Chinese and Indian soldiers have been locked in a face-off in Dokalam area in the southernmost part of Tibet in an area also claimed by Indian ally Bhutan for over a month after Indian troops stopped the Chinese army from building a road in the disputed area. 
China claimed it was constructing the road within its territory, and has been demanding immediate pull-out of the Indian troops. 
Time to teach India another lesson: Chinese expert
Meanwhile, amid the ongoing border row, a Chinese expert has said it was time India was taught a 'second lesson' as it continues to be on an 'intransigent path'. John Gong, a professor at the University of International Business and Economics here, said in a commentary in the state-run Global Times: "The public's patience is running short with India's Doklam transgression. To such an unruly neighbour, China should reciprocate in a language India can understand."
"The famous or infamous India bravado is never backed up by substance in its history with China. If memory is short on the Indian side, perhaps there should be a second lesson," he said, in an obvious reference to the 1962 war when India suffered a defeat.
"India's logic of reasoning on this matter is as feeble as its troops on the ground. India's position is that Doklam is territory in dispute between China and Bhutan, and it has been invited there by Bhutan, its protectorate state. Furthermore, it claims China's road construction in Doklam poses a strategic threat to the 'chicken's neck', referring to the 27-km-wide Siliguri Corridor to the south of Doklam that connects the northeastern part of India with the rest of the country."
The commentary said China was trying to build a road in Doklam to facilitate better logistics support to its border posts and accused India of using it an 'excuse warranting an invasion'.
"China is no Sikkim or Bhutan, where India's hegemonic tactics have worked," he said.
The writer also drew a link between the border row and the Kashmir dispute. "India has the courage to transgress another country on its behalf... If this kind of logic holds, a third country can certainly enter into Kashmir, including India-controlled Kashmir, upon Pakistan's invitation."
With IANS Inputs