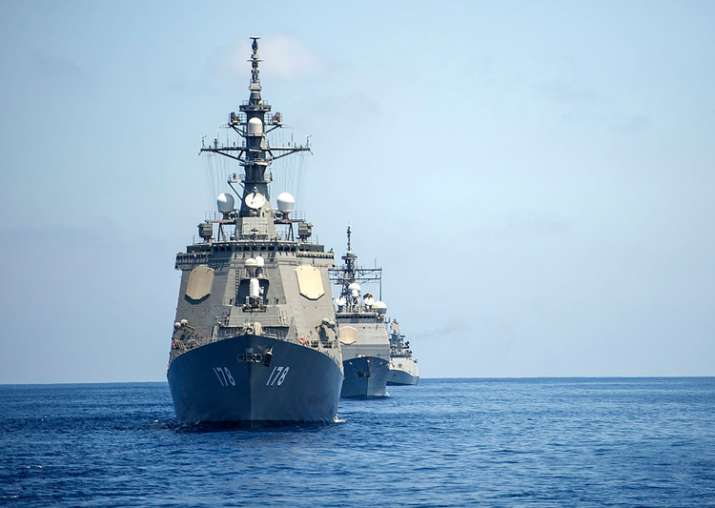 China on Friday guardedly reacted to Malabar exercises between the navies of India, the US and Japan, saying it has "no objection" to normal cooperation and hoped that it was not directed against any third country.
"As we have said before, we have no objection to normal bilateral relationship and cooperation among relevant countries," Chinese Foreign Ministry spokesman Geng Shuang told media briefing here today.
India's INS Vikramaditya along with US aircraft carrier Nimitiz and Japan's helicopter carrier Izumo were due to take part in the exercises involving frontline ships and aircraft, stated to be biggest involving the three countries.
"We hope that this kind of relationship and cooperation will not be directed against third country and that it will be conducive to the regional peace and security," Geng said.
Chinese official media in the past alleged that the exercises were aimed at China.
The US, India and Japan will kick off the annual Malabar series of naval drills in the north Indian Ocean on July 10 as the Chinese Navy is making fresh efforts to expand its footprint in the area. The 10-day Malabar drills will be bigger and more complex than all previous editions of the exercise that first took place 23 years ago to increase the interoperability between the Indian and US navies.
India and the US kicked off Malabar exercise in 1994 and this will be the 21st edition of the drills. It was discontinued for a while after India conducted nuclear tests in 1998. It has traditionally been a bilateral exercise between India and the US. However, Japan, Australia, and Singapore have also taken part in previous editions of the exercise. Japan has been a regular participant and will be represented in future editions too. 
The exercise is aimed at tackling a range of common threats to maritime security in the Indian Ocean.
With PTI Inputs