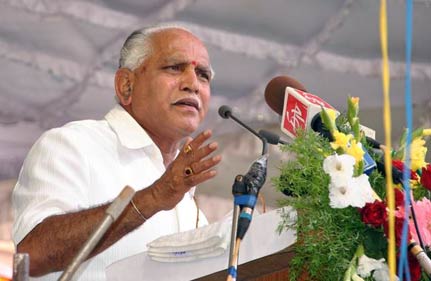 Bangalore, Nov 18: Entangled in a snowballing controversy over alleged land scams, the B S Yeddyurappa government in Karnataka today ordered a judicial probe into allotment of land in the last 10 years even as the Opposition intensified its campaign for the chief minister's ouster.
With the Opposition coming out with fresh 'documents' on their allegations, Yeddyurappa chaired a Cabinet meeting which decided to order the probe by a retired Supreme Court judge into denotification of land by Karnataka Industrial Area Development Board and Bangalore Development Authority in the last decade.
The move, covering the last 10 years, is seen as an attempt by the BJP government to put the Congress and H D Kumaraswamy-led regimes in the dock over similar scams.
Briefing reporters after the Cabinet meeting, Minister for Primary and Secondary Education Vishweshwara Hegde Kageri said if a retired Supreme Court judge was not available, the inquiry would be conducted by a retired high court judge.
He said the terms of reference would be decided later by Yeddyurappa, who is mired in controversy over allotment of KIADB lands to his daughter and denotifying lands BDA acquired to favour his sons -- B Y Raghavendra, B Y Vijendra and son-in-law Sohan Kumar.
As the BJP's first-ever government in the South faced increasing embarrassment, the party's central core committee met in Delhi and called Yeddyurappa to the national capital, but the chief minister called off his visit.
Sources close to him said "Yeddyurappa is not going to Delhi", but refused to cite any reason for him calling off the visit. Earlier, the chief minister's secretariat had stated that Yeddyurappa would leave for Delhi by an 8.45 pm flight.
A belligerent JDS also stepped up pressure, filing a complaint against Yeddyurappa with the Lokayukta for denotifying land, claiming it was a Rs 5,000 crore scam to favour his family members and others.
"We have filed a 580-page complaint before Lokayukta with specific allegations against the chief minister for denotifying valuable government land to favour members of his family, including his sons Raghavendra and Vijay Kumar and some others," JDS spokesperson Y S V Dutta told reporters.
Yeddyurappa also faced allegations over allotting land for industrial purposes to his daughter Umadevi and in favour of some people, including a mine owner.
"I spoke to our party president Nitin Gadkari last night and briefed him elaborately over media reports (on the allegations). I will continue as chief minister for the remaining two-and-a-half years," said Yeddyurappa, who only recently survived a vote of confidence after a rebellion by 11 MLAs and five independents, who withdrew support to the government.
Yeddyurappa also denied having written to top BJP leaders against national general secretary H N Anantkumar, with whom he has an uncomfortable relationship, accusing him of working against his government and trying to topple it. PTI