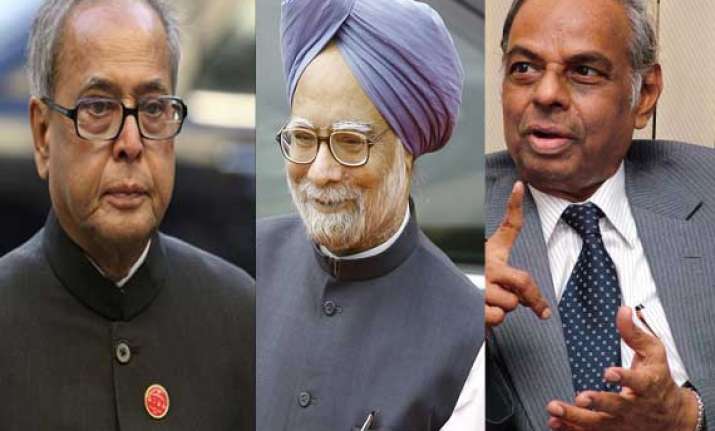 New Delhi, June 2 : Prime Minister Dr Manmohan Singh is waiting for UPA chairperson Sonia Gandhi to give the green signal to Pranab Mukherjee to contest the Presidential polls as early as possible, so that he could keep the finance portfolio for himself, once Mukherjee demits office, the Mumbai newspaper DNA reported today.
The report said, "there is talk is PMO circles" that the PM will keep the finance portfolio for himself, and the PM wants C Rangarajan, former RBI governor and now chairperson of PM's Economic Advisory Council to play a key role in running the finance ministry. 
The DNA report says, the PM wanted Rangarajan as the Finance Minister, but senior leaders in the Congress are averse to giving the coveted job to an outsider.  
"There were occasions during UPA-1 when Singh wanted his trusted aide Montek Singh Ahluwalia to be made finance minister but his efforts however failed to win the approval of the party" says the report.  
The DNA report speaks of "rift between the PMO and the finance ministry" which, it says, has widened in recent months.  
"Singh has been unhappy with Mukherjee's performance and some of his ideas which are considered to be archaic", the report says.  
"...it is a known fact that he (PM) believes Mukherjee has not been able to cope with the adverse impact of the global crisis on the Indian economy and has not managed the situation well", says the report.  
"That is the reason why Singh wants to step in and prove that he is still capable of doing a 1991 all over again. He wants Rangarajan to be his general in the war against recession and painfully slow economic growth". 
The DNA report further says : "Singh is certain that he is not coming back for another term as PM even if the UPA scores an unlikely ictory in 2014  and therefore would like to leave behind a legacy of good governance in the last 24 months before his term ends."