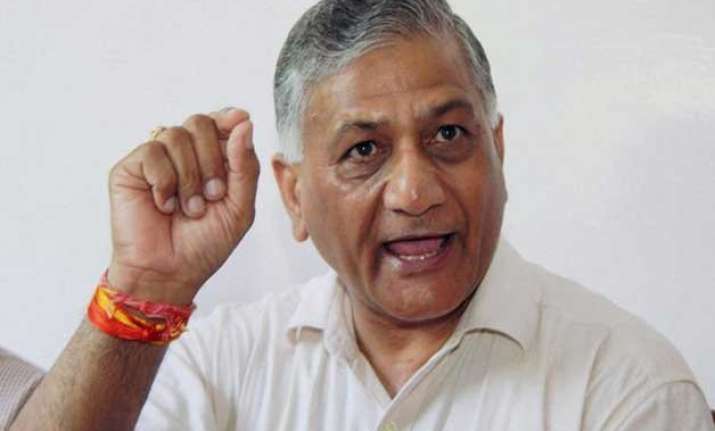 Jakarta: India today said it is committed to combat terrorism in all its forms and will engage with other countries on the matter both bilaterally as well as multilaterally.
Terrorism is plaguing the entire world and puts heavy burden on efforts for peace and development, Minister of State for External Affairs Gen (Retd) V K Singh said at a conference of Asian-African countries here.
"India is committed to combating terrorism in all its forms and manifestations in a composite form. India would be willing to engage with other countries both bilaterally and through multilateral arrangements to combat terrorism," he said during the ministerial meeting.
External Affairs Minister Sushma Swaraj will head tomorrow to Indonesia to attend the 60th commemoration of the historical 1955 Asian-African Conference, which became the stepping stone for setting up the Non-Aligned Movement during Cold War-era, and the 10th anniversary of the New Asian- African Strategic Partnership.
Swaraj will be accompanied by senior diplomats from the Ministry during her five-day visit to Indonesia and Bandung.
The 1955 conference led by Indonesia's independence hero Sukarno galvanised global stalwarts like Egypt's Gamal Abdel Nasser and Prime Minister Jawaharlal Nehru, whose famous 'Panchsheel' doctrine was incorporated in 10 principles of international peace and cooperation in declaration.
Addressing the gathering, Singh called for the need to reform the United Nations, which is celebrating 70 years of its foundation, and stressed that failure to do so adds to the increasing sentiment of frustration amongst the wider membership.
He said the delay also dents the credibility of the Security Council's decisions if it continues to ignore contemporary realities of the 21st Century.
Raising the issue of climate change, Singh said developed countries should work together for a comprehensive, balanced and equitable agreement for the post-2020 period, in accordance with the principles of common but differentiated responsibilities and respective capabilities.