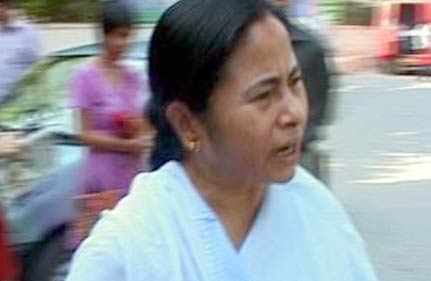 New Delhi, Nov 27 : The Congress-led United Progressive Alliance Government is divided over the Opposition's demand for an investigation by a Joint Parliamentary Committee into the 2G spectrum scam. Railway Minister Mamata Banerjee's Trinamool Congress, UPA's biggest constituent after the Congress, has come out in support of the Opposition's demand and says it want a JPC investigation.
But the Dravida Munnettra Kazhagam (DMK) is not in favour of a JPC on the issue as it feels it will target A Raja, who was forced to resign as the telecom minister or his alleged role in the 2G spectrum scam, even more.
Trinamool chief whip in the Lok Sabha, Sudip Bandopadhya, said that his party wanted the deadlock in Parliament over the 2G issue end and the House should run in order.
"We will support the Government in all decisions it takes. But it should consider a JPC probe for the smooth functioning of Parliament," said Bandopadhya.
Mamata has reportedly raised the issue with Finance Minister Pranab Mukherjee. Trinamool is reportedly pushing for a JPC on 2G spectrum to ensure that stain of scam doesn't come on it before West Bengal Assembly elections. 
Trinamool's statement came even as the Opposition has stalled Parliament for 11 straight days on the issue.
 Meanwhile, the DMK is trying to put up a brave face saying it has no objection to a JPC from 1998.
 "We have been told that we are going for JPC. Our leader Karunanidhi (Tamil Nadu Chief Minister M Karunanidhi) has already announced if anything is there we are not against JPC from 1998. It's a ruling party who has to take decision after consulting with the Prime Minister," said DMK leader TR Baalu.
The Congress core committee also met for over three hours on Friday to discuss the deadlock in Parliament over the issue.
While the Opposition parties are adamant on a JPC on the issue, Congress has proposed as Supreme Court-monitored investigation or a JPC which will investigate the 2G issue from 1998 which would bring the then Bharatiya Janata Party-led National Democratic Alliance government and the then telecom minister late Pramod Mahajan under scanner.
The Congress has also challenged the Opposition to go in for a No Confidence motion on the issue.
The Government is also facing flak from the corporates on the issue. Tata Group Chairman Ratan Tata has hit back at the Government demanding proper investigation into the multi-crore scam.
"So, I think these are bad times. I wish the government would take a stand, bring in an auditor and have an investigation. Book people who are guilty of something," Tata said.