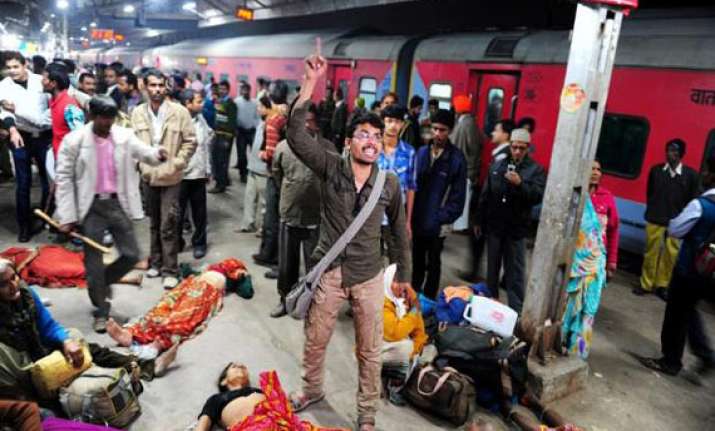 Allahabad: The Railways today appeared to disagree with the findings of a judicial commission set up by the SP government in UP to inquire into a stampede during the Maha Kumbh mela here last year and squarely blamed the tragedy on "faulty crowd management by the local administration".
"What we have found upon a perusal of the course of events that led to the stampede, is that it resulted from a sudden change in crowd management plan. The change was effected by the local administration and it never cared to keep the Railways in the loop", Minister of State for Railways, Manoj Sinha told reporters here.
Sinha was replying to a query relating to the report of the one-member commission submitted to Governor Ram Naik recently, wherein the Railways has been "blamed" for the tragedy and along with the UP Roadways.
The two bodies were accused of failure to ply adequate number of trains and buses respectively in view of the heavy rush of devotees expected on February 10 last year, on account of the auspicious bathing festival of Mauni Amavasya.
Altogether 38 persons were killed and nearly 50 injured in the stampede that broke out at the Allahabad Junction on a day when nearly three crore pilgrims visited the city to take a holy dip in the confluence of Ganga, Yamuna and mythical river Saraswati.
Incidentally, while UP continues to be ruled by the Samajwadi Party which was in power at that time, there has been a change of guard at the Centre where the then ruling Congress-led UPA has been replaced by the BJP-led NDA.
Sinha, who was on his first visit to the city after assuming charge barely a few months ago, conducted inspection of the Allahabad Junction and met senior railway officials during his brief tour and disclosed that a number of smaller stations here like Chheoki, Phaphamau and Prayag Ghat would be developed on a priority basis to avoid congestion during the
2019 Ardh Kumbh.