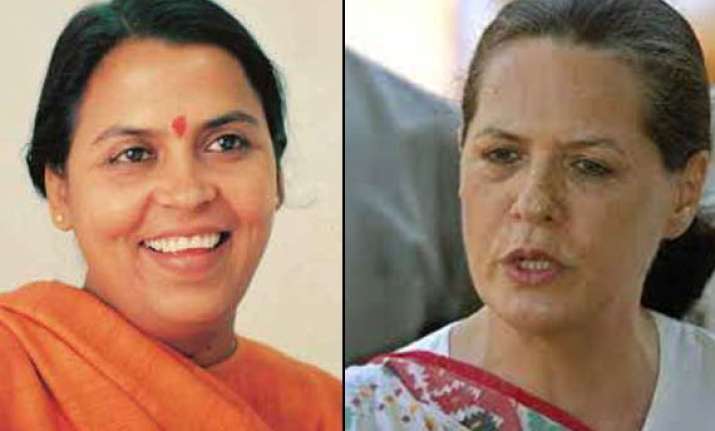 New Delhi, Jun 25:  Senior BJP leader Uma Bharti today met Congress President Sonia Gandhi and demanded that quick and effective action be taken to save river Ganga and prevent parties from playing politics over the issue. 

Bharti, who recently rejoined the BJP, was all praise for Gandhi, saying if the government makes any contribution to save Ganga, the credit for it would go to the UPA chairperson. 

"Four months ago, I was disturbed to see the state of Ganga river. I had then written a letter to the Prime Minister and Environment Minister Jairam Ramesh. My demand is that Ganga should be declared a national river," Bharti told reporters after her meeting with Gandhi. 

"I am overwhelmed that Sonia Gandhi has kept the issue of Ganga separate from politics and given me time. She read out portions from a book by Jawaharlal Nehru and told me that her family has faith in Ganga. She has assured me that she will talk to the Prime Minister and Ramesh regarding my demands, and also ask them to meet me," Bharti said. 

Other than declaring Ganga a national river, Bharti also demanded that more and frequent meetings of the Ganga Basin Authority be held to consider the on-going projects and an expert committee should be formed to look into checking pollution and cleaning of the Ganga.

The BJP leader said though the government had announced formation of the Ganga Basin Authority, nothing much has been done about its constitution after that.  Bharti had earlier written to Gandhi and received a favourable reply from her. This had prompted her to seek an appointment with Gandhi.
 
In her reply, Gandhi had said that Ganga is at the centre of the religous, cultural and historical beliefs of crores of Indians.
"We all are making efforts to preserve the basic character of the Ganga river. The government is seriously considering the points raised by you," Gandhi had said in her