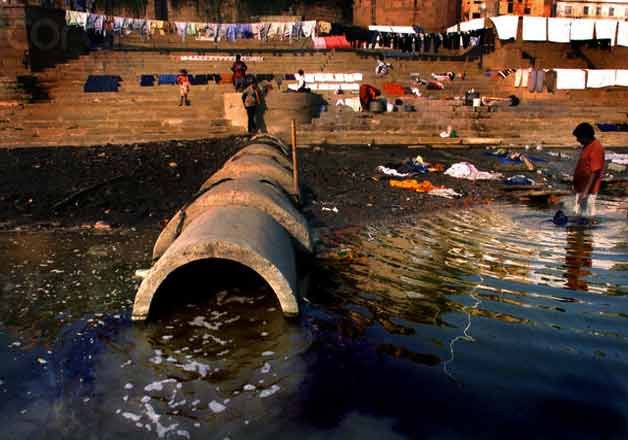 New Delhi: No-matter how much PM Narendra Modi works on Ganga cleaning project but until authorities don't wake up, nothing can be done.
In about 118 towns located in the Ganga river basin, more than two-thirds of the sewage generated gets flowed into the holy river Ganga, thus making the task of its rejuvenation a long drawn process.
According to Times of India, experts from various govt agencies have noted that over 3,636 million litres per day (MLD) generated from these towns is against the treatment capacity of approximately 1,027 MLD of the existing 55 sewage treatment plants (STPs) in these towns spread over five states.
Underlining the "gap", water resources and Ganga rejuvenation ministry has asked five states — Uttarakhand, Uttar Pradesh, Bihar, Jharkhand and West Bengal — to submit detailed project reports to enhance the sewage treatment capacities of these towns on both banks of the river Ganga and its tributaries.
The report prepared by the team of experts from six different organizations of the ministry including National Institute of Hydrology, Central Water Commission, National Water Development Agency and Central Ground Water Board highlighted about the poor infrastructure these towns have.
The report was submitted to the govt in December last year.
Sharing details of the report in Lok Sabha, the water resources minister Uma Bharati in her written response to a Parliament question on Thursday also noted that there are as many as 144 drains that discharge water into the river.
The maximum number of such drains are located in West Bengal (54) followed by UP (51), Bihar (25) and Uttarakhand (14).
Under the "Ganga River Basin Management Plan — 2015", prepared and submitted by the consortium of seven Indian Institute of Technology (IITs), the government has already devised a comprehensive action plan for "short-term" (3 years), "medium-term" (5 years) and "long-term" (10 years and more) to clean the river.
The ministry apart from various plans and schemes also seeks people contribution in keeping the river clean.
Bharti also urged the religious leaders of different faiths to hold a "national congregation" to give a call for effective public participation in the Ganga rejuvenation exercise.