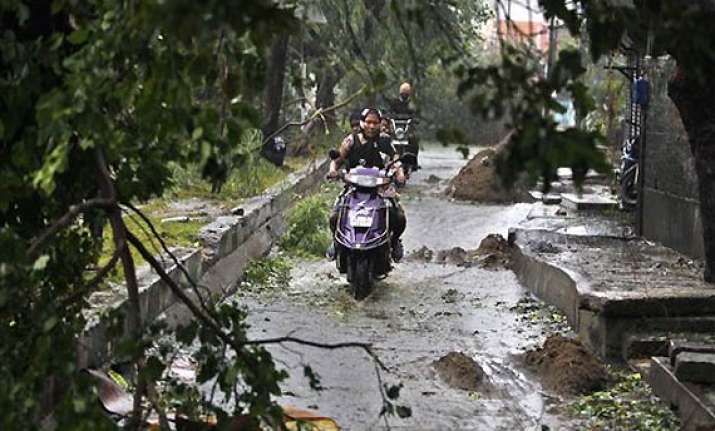 Chennai, Dec 31: Relief operations were launched on war-footing to bring back normalcy in cyclone Thane battered Tamil Nadu's Cuddalore district and the adjacent Puducherry, as the toll caused by the severe storm mounted to 42 today. 

As the administrative machinery was put in top gear, Chief Minister Jayalalithaa said nine more people have died in rain related incidents, taking the toll to 42, following the severe cyclonic storm that crossed Tamil Nadu coast yesterday. 

She said five people were killed in Cuddalore, the worst affected district, three in Kancheepuram and one in Theni. She also announced a solatium of Rs two lakh each to those killed.

Thane, packed with wind speeds of about 135 kmph, claimed 33 lives and wreaked havoc,particularly in Cuddalore and Union territory of Puducherry, leaving around 20,000 people homeless on Friday.

Parts of Cuddalore district wore a battered look with hundreds of uprooted trees and electric posts strewn across roads.

Essential items like milk became scarce while officials started supply of drinking water through 60 tankers.  Rural Industries Minister M C Sampath, overseeing relief operations, said normalcy would be restored in a couple of days in Cuddalore district.

District Collector V Amudhavalli said five senior IAS officials are supervising relief work and assessing damage caused by the cyclone, which has since moved out of the Bay of Bengal and weakened into a well marked low pressure over the Arabian Sea.

Puducherry, which remained cut-off from adjoining districts in Tamil Nadu, is fast returning to normal with road and rail traffic resuming today, officials said. 

Work is on to clear interior roads in the city and suburbs scattered with uprooted trees and electric poles, while power is being restored in phases, they said.