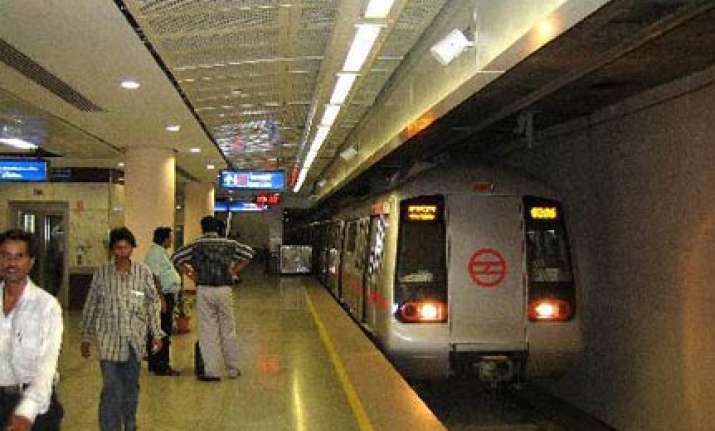 New Delhi, Nov 19: Thousands of Metro commuters today had a nightmarish experience when an evening chaos left them stranded at various stations here as services on the Gurgaon route were disrupted for over three hours due to a problem in the Over-head Electrification (OHE).
The daily commuters, who were hoping to reach home on time, were in for a shock when they were told at the Metro stations that there were inordinate delays in services due to problem in the OHE.
Passengers alleged there were short-circuits on the OHE line, but Metro officials did not have any information on this.
The problem led to complete disruption of services between Central Secretariat and HUDA City Centre (Gurgaon) on the Line 2 (Jehangirpuri-HUDA City Centre), Metro officials said, adding that their engineers were working on the problem.
Hundreds of people could be seen standing outside at the Udyog Bhawan, Central Secretariat and Patel Chowk stations after the problem erupted at around 7.30 pm during the evening rush hours.
A DMRC spokesman said train services on the Central Secretariat-HUDA City Centre stretch were affected due to the problem in OHE.
"Services between Central Secretariat and HUDA City Centre came to a complete halt at around 7.30 pm after the OHE failed to supply power," he said, adding that the OHE problem occurred at three stations -- Udyog Bhawan, Green Park and Sikandurpur.
He said services between Central Secretariat and Jehangirpuri were not affected and remained normal.
It was chaos at all stations on the Line as thousands of people were stranded there for hours waiting for trains, but in vain.
Stations like CST, Udyog Bhawan were closed for some time and passengers were not allowed inside. Huge queues could be seen at some stations with passengers demanding refund of their tickets.
As situation went out of control, 15 DTC buses from Sarojini Nagar depot were moved to Central Secretariat to facilitate the travel of passengers towards Gurgaon.
Vinodhini Vaidyanathan, a law student, was a irritated lot today she got delayed to her home from college by almost two hours.
"I got into the train from Laxmi Nagar at around 7 PM and the train from Rajiv Chowk stopped at every station and from Udyog Bhawan it did not move at all. We were not given proper information about the delay," she said.
Metro officials said single line operations resumed around 9 pm as OHE on that line was rectified.
Hundreds of commuters had a tough time in getting back home from metro stations as there was no proper public transportation system.
Priyanka, a software professional living in Gurgaon, says she had to spend around Rs 250 to reach the satellite city from Central Secretariat in an auto after the train services came to an halt.
"I wanted to go home early. But I got stuck. I had to pay too much money because no one auto was willing to come to Gurgaon," she said.
Abhishek, a journalist, had a different tale to tell. After wounding up his work at 9 PM, he went to Central Secretariat station to board a metro, but the station was closed.
"I was shocked to see that the station's entry was closed. I could not get into the station. The Badarpur Line which I take usually was not affected but the station was closed. I am not getting an auto even," he said.  PTI