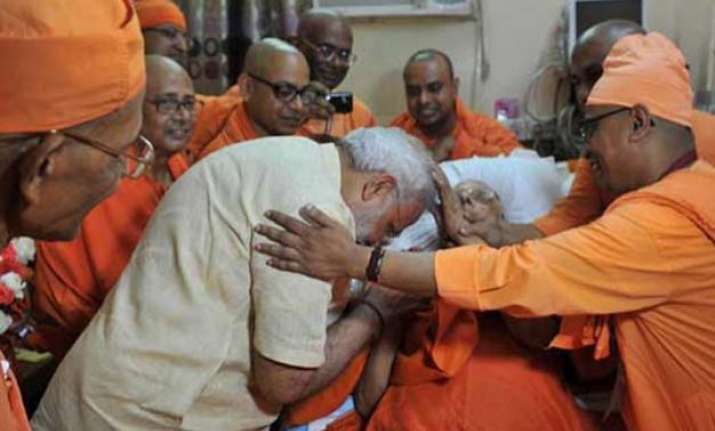 Prime Minister Narendra Modi on Saturday visited his ailing Guru Swami Atmasthananda Maharaj,  president of Ramakrishna Math and Mission Order  in Kolkata.  
Modi who is on an 18 hour trip to West Bengal met his spiritual Guru within hours of landing in Kolkata.
Surprisingly, the monk's health showed signs of improvement during his informal meet with the prime  minister.
Modi's association with 98 year old monk goes five decades back when a young Modi met him in RajKot in 1966, back then, Modi was an ordinary political worker influenced by Swami vivekanand and in search of a more meaningful role in life. Then Atmasthanandaji was the head of RKM's Rajkot centre.
 The meeting left a lasting impression on him and led to the bonding with the order for becoming a monk but the sage advised him against it and said that he was destined for other works. Atmasthanandaji told him that his future lay in 'Raaj Dharma' (politics).
Thereafter, Under Atmasthanandaji's guidance Modi increased his knowledge about Swami Vivekananda's teachings and the scriptures.
A few years back during his visit to Kolkata, Modi who had then turned a top contender as BJP's PM candidate for the 2014 General elections after being elected Gujarat chief minister for the third successive term, met Atmasthanandaji at Belur Math and expressed his gratitude for guiding him in his youth and sought his blessing again.