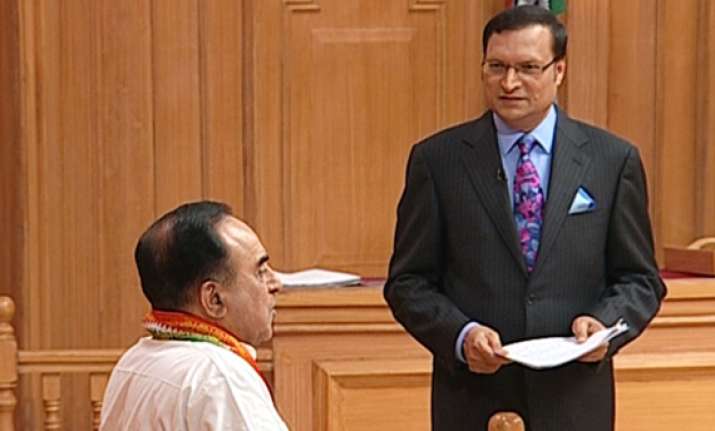 New Delhi, Mar 31:
Predicting Lok Sabha elections by the end of this year, Janata Party president Dr Subramanian Swamy has  said, Congress general secretary
Rahul Gandhi
was ineligible to become India's prime minister.
Replying to a barrage of questions in
Rajat Sharma
's Aap Ki Adalat on India TV, Dr Swamy said Congress president
Sonia Gandhi
was not appointed PM in 2004 by the then president APJ Abdul Kalam because of a law which could render her ineligible. 
"That law is still there and I can tell you even Rahul Gandhi is ineligible to become the prime minister. I will keep  this a secret till the opportune moment comes" ( Main ise us samay tak rahasya rakhoonga jab tak naubat nahin aayegi), said Dr Swamy.
Disclosing the sequence of events on May 14, 2004, the day Sonia Gandhi renounced her bid for prime ministership, Dr Swamy said, 340 MPs had signed individual letters addressed to the President saying they supported Sonia Gandhi  as the Prime Minister.
"There was also a letter signed by Soniaji as MP that she supported herself to become PM. It is wrong to say that she did not want to become PM.
"Soniaji was supposed to call on the President that day at 5 pm to stake her claim. I called on the President at 12:30 pm and produced evidences to say that she was ineligible to become prime minister.
"At 3:30 pm, the President sent Soniaji a letter asking her not to come at 5 pm because there were some issues which needed to be probed. The President asked her to come at 10 am the following day. At 5 pm, Dr Manmohan Singh read out the last para of that letter to his MPs. The Congress should make that letter public".
When Rajat Sharma pointed out that Sonia Gandhi could have staked her claim in 2009 too, but did not, Swamy replied: "That law is still there today. Even Rahul cannot become the prime minister. I will keep that a secret till the opportune moment comes."
Dr Swamy said, "my birth chart shows I would return to power within a year. And, I can say with confidence that Lok Sabha polls will be held definitely by the end of this year, and not in 2014."
Asked why he was targeting the Gandhi family, Swamy said: "I was sad to find that my good friend Rajivji  was killed by the LTTE, and Sonia Gandhi was writing letter to the President seeking clemency for the killers. I was naturally angry."
When Rajat Sharma showed him a picture of Swamy with Sonia Gandhi and Jayalalitha sipping tea and joining hands to pull down the Vajpayee government in 1999, Swamy laughed and said : "Even Arjuna and Duryodhana sipped tea together, but later fought the Mahabharata."
Swamy also questioned the business activities of Sonia Gandhi's son-in-law Robert Vadra.
 "One show find out what businesses he has in Hong Kong, in Italy. He has six aircraft in India, and I don't think he ever passed out of school. He is a regular goer to gymnasiums, and once  he fell because of too much steroid injections.
"Let me tell you, I have never levelled any charge without any basis. Even, Jayalalitha filed nearly 100 defamation cases against him, and I got all of them dismissed in the Supreme Court."
"Once Congress even filed a defamation case against me. I told the court, I wanted to cross-examine Sonia Gandhi in court. The party quietly dropped the case", said Swamy.
The Janata Party president said that the Pakistani spy agency ISI had all the informations about dubious hawala deals by Indian politicians in Dubai.
"No hawala business can be done in Dubai without the knowledge of ISI. The government does not want to hand Afzal Guru and Ajmal Kasab because it is afraid of Pakistan, otherwise why should the President take so long to decide about Afzal Guru and Rajiv killers?"
Swamy praised Anna Hazare as "an honest man, whose honesty cannot be matched by all the Congressmen put together".
He, however, said, Anna had a "leftist team" with him, which thinks the Jan Lokpal Bill is the only panacea for all ills. "I have shown to the country how an individual can use the current laws to bring the corrupt to justice", said Swamy.
Swamy praised Swami Ramdev and said the yogi was fighting for the national cause. "It will be better if both of us use Anna more rather than his team", he said.
Praising RSS as a "nationalist outfit", Swamy said "I would be proud if RSS uses me for its objectives".
Aap Ki Adalat show with Dr Subramanian Swamy will be telecast on India TV t on Saturday (March 31) at 10 pm, and Sunday (April 1) at 10 am and 10 pm.