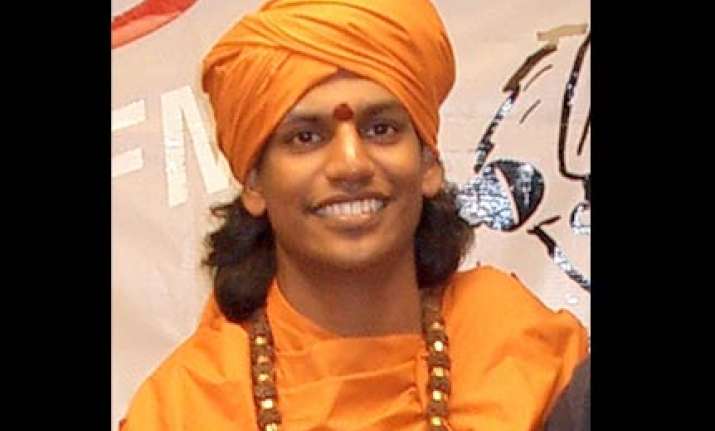 Scandal-tainted Swami Nithyananda has in an interview dismissed all allegations levelled against him. In an interview to a Princeton-based researcher Rajiv Malhotra the swami said he was being made a target of calumny. In the interview Malhotra brought up all allegations slapped against the swami, except the one involving a sex scandal with Tamil actress Ranjitha, which surfaced last week.
Asked about the controversy over the Bidadi ashram land, Nithyananda said  the land was donated to his mission by Karnataka's Sajjan Rao family in 2003. He added that the land was obtained legally and all the documents supporting this land transfer were with the ashram.
The interviewer, who is also disciple of the Swamiji, asked him to put up all the documents on his website so that things are clear to the people. "Will publish immediately," the Swami promised.
On the mysterious death of a Canadian devotee, Nithyananda said, the death was an accident.  He said, the devotee had a habit of sitting on the parapet wall, and he did not listen to the ashram inmates' repeated advice. One day when he fell from the parapet  wall, he was immediately rushed to hospital, where he was declared brought dead," Nithyananda said. The police and the family are convinced that it was an accident and there was no crime involved, the swami says.
Terming the reports claiming that youngsters were being held forcibly at this ashram as 'pure lies', Nithyananada said, "Everybody is there willingly. If they want to leave, they are free to leave. The inmates first fill up applications for admission into ashram. Youngsters are also expected to submit a consent letter from the parents, the Swami added.
This was in reference to the media reports suggesting that people are being held at the ashrams against their will, which accounts to human rights violations.
On charges of stealing sandalwood, Swami Nithyananda clarified that that it was just a 'situation' and nothing more than that. The Bidadi ashram, which is filled with sandalwood trees, had invited the attention of some thieves. The thieves, who stole a tree, had left some pieces lying around, he said.
After the theft a police complaint was lodged and the forest department was intimated, the Swami said. But now the authorities are claiming that they should have been informed about the pieces of sandalwood left there also, he added before terming it a 'situation' and nothing more.
The Swami also dismissed other allegations of amassing wealth and Tamil Nadu rape charges.