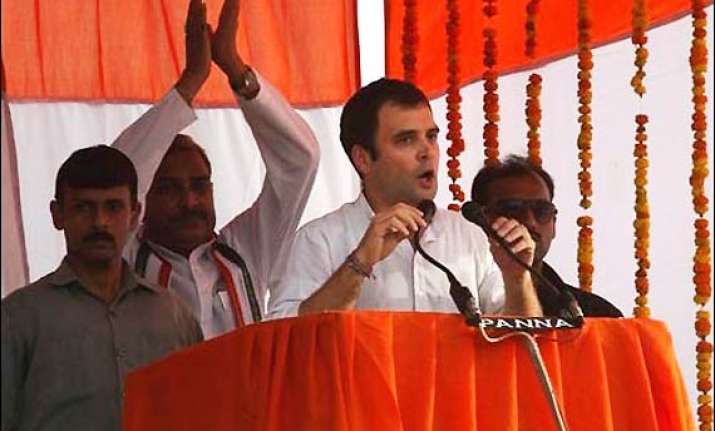 Phoolpur, UP, Nov 14: Congress general secretary Rahul Gandhi today lashed out at the BSP government in UP and alleged there was rampant corruption throughout the state and all the money that was being sent from the Centre  are lining the pockets of BSP leaders.
 
Addressing a party rally in Phoolpur, projected as the beginning of his poll campaign in UP, Rahul Gandhi asked voters to change the government.
 
"For how long, will you beg in Maharashtra or work as labourers in Punjab? When are you going to change the government here? Tell me right now. I want a reply. Let  all of us join hands to bring about the change", said Rahul.
 
In a switch from "aam aadmi" to "gareeb", Rahul Gandhi blamed Mayawati's BSP government for rampant corruption. One has to pay even for getting an FIR filed, he alleged.
 
"On one hand while the nation is progressing, UP is moving backward. There was a time when Nehruji was the MP from here, now we have a mafia criminal  representing this place (Phoolpur).
 
"I am in politics for the last seven years. The 'gareeb' people of UP have taught me that a leader needs to go among the people to know the real conditions they live in.
 
"So long as a leader does not go to a gareeb's  hut, have meals there and know about his problems, he cannot be angry.
 
"I am angry today  over the state of UP, but Mayawati and Mulayan Singhji are not angry, because they do not go among the people", Rahul said.
 
The Congress leader alleged that most of the Rs 7,000 cr Bundelkhand package sanctioned by the PM did not reach the poor and "BSP leaders lined their pockets".
 
People in Bundelkhand are leaving their homes in search of jobs elsewhere, he said. "Who will reply to them, if not the state government? Will God give a reply?"
 
In Bhatta Parsaul near Greater Noida, Rahul alleged, police fired on people and misbehaved with women, but the government blamed the Naxalites for fomenting trouble there.
 
Under the Janani Suraksha Yojana (maternity protection scheme), there were cases in UP, where a single woman gave birth to 52 children in a year,  one every week, and took Rs 1,400 for each child. Wherever you see in UP, you find corruption, said Gandhi.
 
The Congress leader also  alleged that opposition parties at the centre were opposing the Land Acquisition Amendment Bill, "prepared in a record 52 days time", in the Standing Committee. They are not opposing in the open, but are opposing the bill in the Standing Committee, he alleged.
 
On the Lokpal Bill, Rahul made a single remark. He said, the bill providing EC-like constitutional autonomous status to the Lok Pal was being readied in the Standing Committee and will be placed before parliament.
 
"The day you bring about change in UP, nobody can stop this state's progress. Farmers in Punjab, people in Maharashtra are praising the work of people coming from UP, but here, it is your state government which is deceiving you. Now is the time for change", he said.
 
Congress leaders Digvijay Singh, Rita Bahuguna Joshi, Benilal Verma, Raj Babbar and Salman Khursheed  attended the rally.