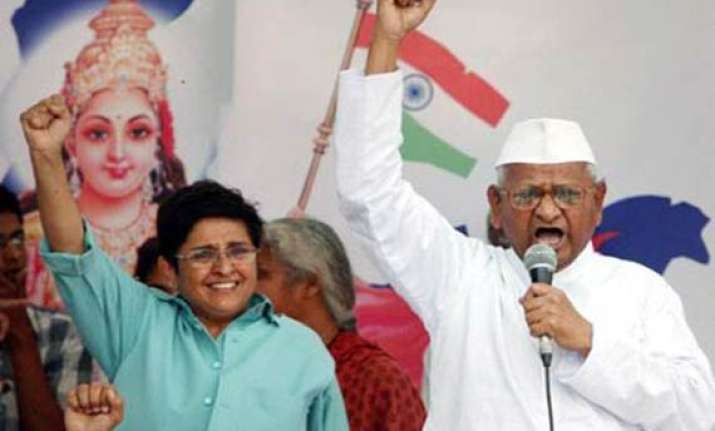 New Delhi, Nov 25: With the Parliamentary Standing Committee arriving at a "broad consensus" on recommending Constitutional status for Lokpal, Team Anna member Kiran Bedi today wondered whether the UPA will pass the buck on to Opposition if the bill is not passed.

"Lokpal to be Constitutional body (and) UPA would need the support of Opposition (for this)? If not, will it pass the buck? (We) need to stay alert," Bedi said in a tweet.

She was responding to Parliamentary Standing Committee on Personnel and Law and Justice, which is scrutinising the Lokpal Bill, ended its internal deliberations after arriving at a "broad consensus" on most of the issues including giving constitutional status to Lokpal.

However, consensus eluded on the contentious issue of bringing Prime Minister under the purview of anti-corruption ombudsman.

Yesterday, Bedi had warned politicians that they may be targeted like Agriculture Minister Sharad Pawar if Lokpal Bill is not passed in the ongoing Winter Session of Parliament.

"Pray proper Lokpal Bill gets passed in Winter Session or else pent up anger may come on streets. Politicians may get targeted," Bedi had said yesterday.
However, she said today, "bahut galat hua. Kisi ko aise marna theek nahi hai ji (Whatever happened is wrong.

To beat up someone like this is not right)...Insulting behaviour is totally unacceptable. It hurts the foundation of a civilised society. Ought to make us think why is this happening?" At a public function here yesterday, Pawar was slapped by a youth who claimed he was angry with corruption and price rise.