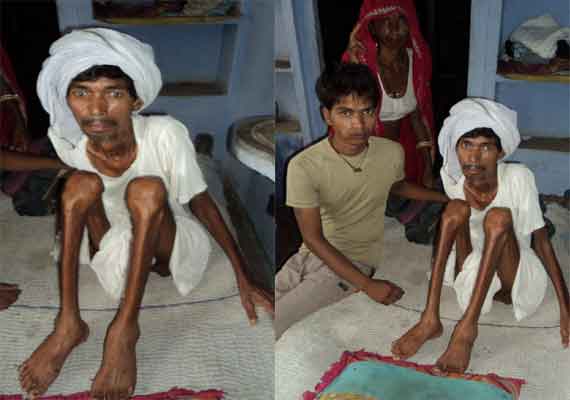 Karauli (Rajasthan): For 10 years, Ghanshyam underwent treatment for tuberculosis (TB) as his persistent coughing and chest pain refused to go away. But in 2011, the stone quarry worker was told that he is in the last stages of silicosis - an insidious and incurable lung disease that has claimed the lives of many mine workers across Rajasthan.
Twenty-five years of working in the sandstone mines of Karauli district in Rajasthan and inhaling the silica dust have reduced Ghanshyam, 50, to a skeleton. On a liquid diet for the past many months, the father of two cannot stand and always moans in pain.
"There is no hope for us now. We are in debt as around Rs.4 lakh has been spent on his treatment. Had he been diagnosed with silicosin (silicosis) on time, life wouldn't have come to this," Dayabai, Ghanshyam's wife, told a visiting IANS correspondent.
Dayabai has come to terms with the reality that she will lose him any time.
Karauli is one of the 19 districts in Rajasthan where thousands of mine workers are battling with silicosis caused by inhaling dust containing crystalline silica.
Ghanshyam is not the only botched-up case of misdiagnosis in Aarampur village of Karauli in the eastern belt of Rajasthan where sandstone is found in abundance and has been used in building the historical Red Fort and the palatial Rashtrapati Bhavan.
"Many silicosis-affected patients in this village, in fact in several adjoining districts, have died mistakenly thinking they had TB," Vikas Bhardwaj, secretary at Dang Vikas Sansthan - a non-government organization - told IANS.
Legal mining of stones in this backward district dates back to 1920, but the first official case of this deadly disease was detected only in 2011, said Bhardwaj.
"It was only as late as November 2011 that we realised that the people were in the grip of silicosis," said Bhardwaj.
Sribai, 50, a gaunt-looking silicosis patient, said she lost her husband to the disease a few years ago.
According to locals, Balram, 60, is the eldest male of this village of 3,000 people. The disease has sapped away the lives of several men, mostly in their middle age, leaving behind their widows.
"No one survives here till 60. Despite having silicosis, Balram is still alive," remarked Prabhu Dayal, a silicosis patient himself.
Rajasthan has no accurate data on silicosis, thanks to the poor health infrastructure to diagnose the disease and unchecked mining and quarrying in the state.
Rajasthan has 32,000 mines where over two million labourers work and only seven Pneumoconiosis Board centres to diagnose silicosis. Located in seven state-run medical colleges, each centre has a team of three doctors who examine the cases only on weekends.