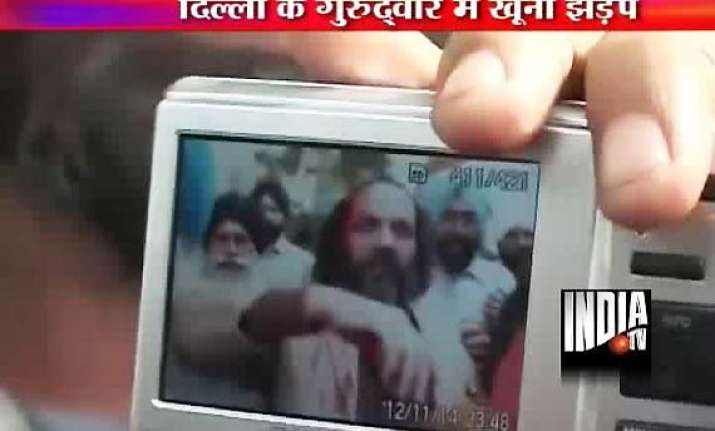 New Delhi, Nov 15: Ahead of next month's elections to the Delhi Sikh Gurudwara Prabhandak Committee, rival factions clashed today inside the premises of a gurudwara close to Parliament House here leaving five persons injured.
Violence erupted in the Rakhabganj Gurudwara at around 11 am between the supporters of DSGPC president Paramjeet Singh Sarna and Akali Dal Delhi chief Manjeet Singh after the latter was allegedly not allowed to attend a meeting.
Soon the supporters clashed with each other and some of them brandished swords and entered into a scuffle.  A group drew their rivals out of the premises and ran after them with lathis and swords.
A meeting was underway at the gurudwara to chalk out plans for the DSGPC elections next month and there has been intense fight ahead of the polls to take control of the religious body.
Flower pots and window panes were broken during the violence.
According to Manjeet Singh's supporters, he was not allowed to attend the meeting and he was attacked by the security guards, a charge denied by Sarna's supporters.
Though both the groups alleged that shots were fired, Delhi Police spokesperson Rajan Bhagat said it could not be verified. "There was no evidence of firing. It could not be verified. It appears to be a case of rumour mongering," Bhagat said.
Five persons suffered injuries in the scuffle and two of them have serious injuries, police said.
Harvinder Singh Sarna, Secretary of the committee, claimed Manjeet Singh was forcibly trying to enter the meeting and when he was prevented, his associates indulged in violence.
Manjinder Singh Sirsa, President Youth Akali Dal (Badal), claimed that Manjeet Singh was invited to the meeting but was not allowed to enter.