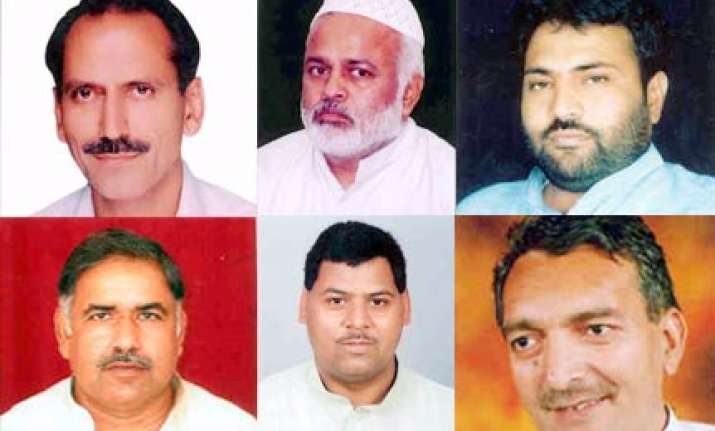 Seven members of Rajya Sabha belonging to SP, RJD, LJP and an unattached MP were suspended on Tuesday for remaining part of the budget session for their unruly behaviour in the House yesterday over the Women's Reservation Bill.
The suspended members are Subhash Yadav (RJD), Sabir Ali (LJP), Veerpal Singh Yadav, Nand Kishore Yadav, Amir Alam Khan and Kamal Akhtar (all  SP), and Ejaz Ali(Unattached).
The motion for their suspension was moved by Minister of State for Parliamentary Affairs Prithviraj Chavan and was passed by a voice vote.
The action was taken under Rule 256 of the House, for showing total "disregard for dignity of Council and authority of the Chair" by obstructing the business of the House.
Yesterday, these members had indulged in unprecedented unruly scenes and even tried to attack Chairman Hamid Ansari when the Womens' Reservation Bill was moved by the government.
After their suspension, the House was adjourned by Ansari for the second time in the day.
As soon as the House re-assembled at 12 noon after the first adjournment of 55 minutes, Ansari directed laying of papers amid the uproar created by SP, RJD and LJP members who are opposed to the bill.
While the bill was not taken up, the Chairman allowed Chavan to move the motion for suspension of the seven members under Rule 256 which does not allow any adjournment or debate.
After their suspension, members squatted in the Well of the House and refused to leave. They were seen sitting till the press gallery was cleared.
Earlier, when the House re-assembled at 12, the SP and RJD members trooped into the well raising slogan against the bill, which provides for one-third reservation to women in the Lok Sabha and state assemblies.
"Tanashahi Nahin Chalegi, Musalmanon Daliton ki Hissemari Nahin Chalegi (Dictatorship will not be tolerated. Share of Muslims and Dalits cannot be taken away)," members kept on shouting even as the Chairman announced their suspension and adjournment of the House till 2 PM.
Earlier in the morning, the House was adjourned till 12 noon when SP members disrupted the proceedings demanding implementation of Ranganath Misra Commission report during Question Hour for the second day. PTI