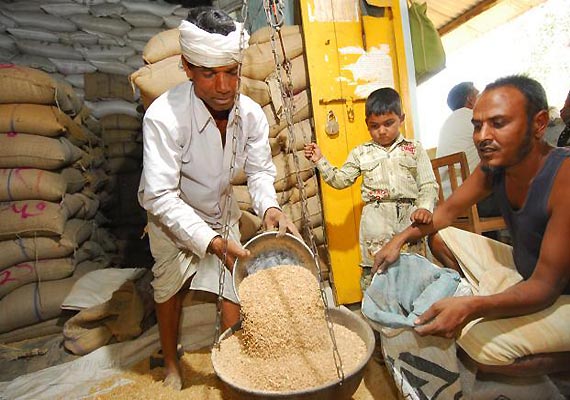 New Delhi, Jul 29: The Supreme Court today refused to entertain a PIL challenging the food security ordinance promulgated by the government three weeks ago. 
A bench comprising justices T S Thakur and Vikramajit Sen declined to hear the PIL and asked the petitioner to approach the high court for redressal of his grievances.  
The court passed the order on a petition filed by advocate M L Sharma alleging that the Centre has brought the ordinance for political purposes and the court should examine its validity.
The bench, however, made it clear that the court cannot examine the ordinance on the ground that there is political dimension or objective behind it.
It asked the petitioner to approach the high court to raise other grounds for challenging validity of the ordinance.  
The petition sought quashing of the ordinance alleging that the constitutional provision has been misused for pre-election propaganda and political gains.  
President Pranab Mukherjee had on July 5 signed the ordinance on food security to give the nation's two-third population the right to get 5 kgs of food grains every month at highly subsidised rates of Rs 1-3 per kg.  
The petition said Article 123 of the Constitution that deals with the power of the President to promulgate ordinances during the recess of Parliament has been misused as there was no "emergency" situation.
"There were no emergency circumstances to issue the impugned ordinance. Hence, it does not comply with the terms of Article 123. Therefore, the impugned notification is unconstitutional and is liable to be declared unconstitutional and void," according to the PIL.
It also raised several questions including whether the government can invoke Article 123 without any emergency situation.
"Whether Article 123 can be allowed to be misused by the sitting political parties in government for their pre-election propaganda for political purposes?, it asked.  The petition also said that million of tonnes of food grains are rotting in open as the country lacks storage facility even as people are dying of hunger.  
"Instead of complying with the Supreme Court's direction to release food grain for the protection of life of citizens of India, the respondent (Centre) has released a food bill via ordinance route for securing political mileage for their election mandate," the PIL, which made Principal Secretary of the PMO and the agriculture minister as parties, said.