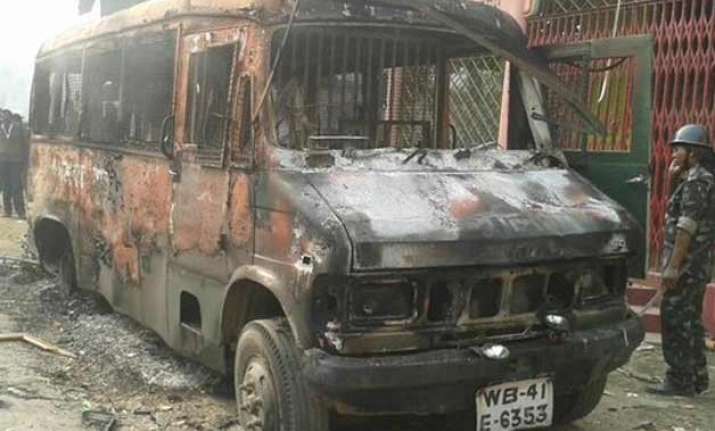 New Delhi: Linking the recent Malda violence to radicals in Bangladesh, an article in a pro-RSS publication has said the 'mayhem' was principally aimed at scaring away the few Hindu families that reside in the area.  
In a cover article on Malda violence in poll-bound West Bengal, 'Panchjanya' has questioned the purported cause behind the protests that had turned violent leading to the torching of a local police station.
"It is said that the violence in Malda's Kaliachak area was the result of some objectionable comments... But the Hindu Mahasabha leader who was said to have made those so-called comments was already in jail. If you look at the sequence of events in Malda, a different reality emerges," the article says.
It alleged the hand of Bangladesh-based radicals in the violence.
"The probe agencies have revealed this. It is believed that the seeds of Malda protest were sown in Bangladesh where a man called Saddam Sheikh played a key role in the violence," it claimed.
The article quoted local people and sources to claim that the police and administration nexus in the Malda had led to three illegal activities large scale production of opium, illegal arms and explosives factories and counterfeit currency trade into India through Bangladesh.
The pro-RSS publication also says that in the Kaliachak and Vaishnav Nagar areas of Malda, there are 15 major drug dealers who are said to be enjoying the patronage of D company.
"Counterfeit currency is spread across India through 400 agents and 2000 carriers.
Around 80 per cent counterfeit currency entering India is via Malda touching the Bangladesh border... In 2014, 82 counterfeit currency cases were lodged in West Bengal and 120 people were arrested....if the state government driven by vote bank politics continues to be a mute spectator to what's going on, soon the menace will spread all over from Malda," the article says.