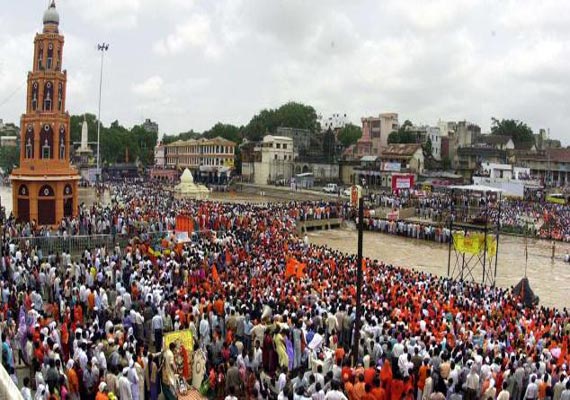 Nashik, Jul 29: Projects worth Rs 51 crore have been sanctioned under the tourism development programme in view of the Kumbh mela scheduled at Nashik in 2015, Maharashtra government has said.
To prevent incidents of landslides at the famous Saptshrungi temple at Nanduri near Nashik, the work for rock fall protection at the cost of Rs 23 crore will be started soon, state PWD and tourism minister Chhagan Bhujbal told reporters here last evening.
Also, a skywalk would be constructed in Nanduri at a cost of Rs 8.45 crore.
A Rs 12 crore project to install a ropeway from Saptshrungi temple to Markendeya hill will also be taken up before the mega event, he said adding that a road linking Shivalaya lake, its renovation and beautification of the area will be done at the cost of Rs 5.45 crore.  
Construction works on various ring-roads, linking national as well as state highways of 466 km, costing Rs 536 crore were also sanctioned by the state government, which included four-laning of road from Nashik to pilgrimage town of Trimbakeshwar and Sinnar to Shirdi, he said.
An additional building at Nashik rest house (government circuit house) will be constructed within a year at a cost of Rs 8 crore where suites for VIPs and general people will be built.
The present circuit house at Trimbakeshwar will also be developed by building suites for VVIPs, general public, and other amenities at a cost of Rs 7.95 crore, the minister added.