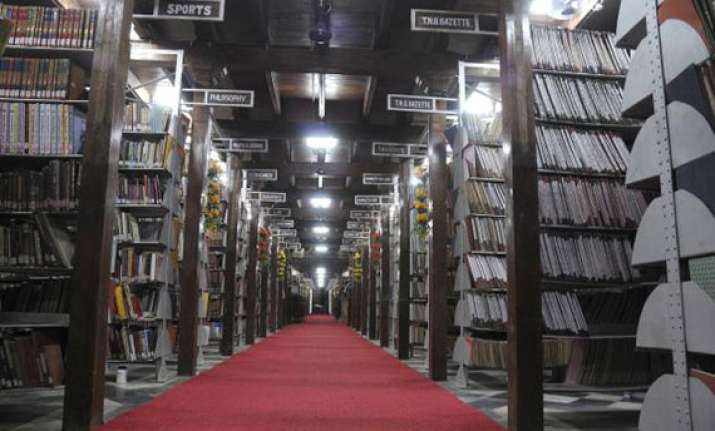 Vadodara, Nov 19: In a bid to enable readers to easily access books and information, the Centre has decided to digitally link nearly 9,000 libraries across the country under the National Mission on Libraries (NML) at a cost of Rs 1,000 crore.
Director of DELNET (Developing Library Network) and NML member H K Kaul told this at Vadodara on Monday.
He was speaking on the eve of the three-day 15th national convention on 'Knowledge, Library and Information Networking' beginning here tomorrow.
"There is a plan to modernise and digitally link nearly 9,000 libraries across the country in a bid to provide readers access to books and information," he said.
Under the plan, libraries in several cities, towns and villages of the country would be linked in the next three years, he said adding that a proposal to spend Rs 1,000 crore on this project is pending before the Planning Commission for its approval.
According to Mr. Kaul, a survey of reading habits of Indians and revival of community libraries and reading rooms has also been planned.
He pointed out that Gujarat figures in the list of Indian states that lag behind in library development, "despite enacting Library Act in the respective States."
"Library is a State subject and 16 States including Gujarat out of a total of 32 states, have enacted Library Act after getting passed in respective state assemblies," he said.
However, library movement is not picking up in these States due to various reasons, one of which is non-allocation of sufficient funds, he said.
"Therefore, the National Library Mission has decided to focus on improving the public library system of the country, focussing on the States where library development is lagging behind," Mr. Kaul said.
A national census of libraries, upgradation of infrastructure of reading resources and work of modernising and promoting the networking of libraries would be taken up, Mr. Kaul said.
Mr. Kaul also underlined the need to change syllabus of library courses being run by various universities and institutions for meeting challenges.
About 250 delegates and experts from 32 States would take part in the three-day convention, which is being organised to mark the completion of 100 years of library movement in India, Mr. Kaul said.
According to him, the convention coincides with the 150th birth anniversary of Sir Sayajirao Gaekwad III, late Maharaja of erstwhile princely state of Baroda, who, he said, had taken a lead in establishing and opening libraries in towns and villages in Central, South, North Gujarat and Saurashtra regions, which fell under his jurisdiction.
The theme of the convention, hosted by the Maharaja Sayajirao University of Baroda, is 'Libraries for the future: collection, competencies and cooperation'.