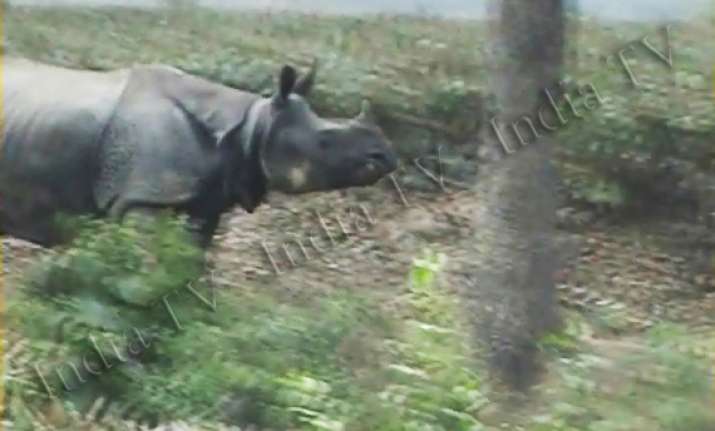 Dhekiajuli, Assam, Jan 29: A rhino from Orang National Park strayed into Dhekiajuli tea estate located in Sonitpur district this morning.

The tea estate workers panicked as the rhino was spotted roaming inside the tea estate.

Divisional forest officer of Orang, Sushil Daila said two rhinos, a male and a female, had strayed out of the park on January 26.




While the male rhino returned to the park the same night, the female rhino moved further away from the park. It is the same rhino which was spotted at Dhekiajuli tea estate today.

The tea estate is about 20 Km from the national park, the smallest rhino habitat in the state. Daila said the rhino was spotted in the Borsola area yesterday but it had moved further away today.

Efforts are on to chase the rhino back to the park and Orang staff and forest personnel from Sonitpur are taking all necessary steps in this regard.

A forest official engaged in the operation to chase back the rhino said at least two rounds were fired in the air early this morning to scare the rhino and make it move towards Orang.

"The rhino is very close to Dhekiajuli town. Our aim is to stop it from straying into the town area." He said the rescue team was facing a big problem as a large number of people had gathered to see the rhino and the rescue team was finding it difficult make the rhino take the right path back to the national park.




"There are people all around and the rhino is stranded in the middle of the tea estate". He said help from police had been sought to control the crowd. "Unless the people move away from the area, it would not be possible to chase back the rhino."

The forest staff at Orang had managed to bring back a rhino which had strayed out of the park and entered the Chapori area, considered to be a poacher's den, on January 23.

The rhino had crossed the Brahmaputra and taken shelter in places considered to the breeding ground of poachers.




At least 15 forest guards from Orang and Morigaon district had to struggle for an entire day to bring the rhino back to the park.

In the last couple of years, there have been at least four cases of rhinos straying out of the national park and each time, our staff has managed to bring them back safely, at times after two to three days.